Samsung Gear Fit review: A dazzling wrist wearable with serious software deficits
Samsung has taken a big step forward in its wearables effort--if only in its philosophy of what a wrist gadget should be.
Other wearables delve much deeper into sleep data, and there's no reason the Gear Fit can't do this too, as they're all using simple accelerometers for data acquisition. And, for what it's worth, Samsung's "motionless" numbers did map accurately to much more granular sleep data from my Jawbone UP24.
Let's see a firmware upgrade come to the rescue
My main beefs with the Gear Fit all revolve around software--and so many of these issues could be fixed with a firmware upgrade. That's my take, at least, because Samsung's core sensor hardware isn't dramatically different from that offered by the wearables competition.
Samsung could add much clearer Help menus to the Gear Fit Manager, and improve feature transparency in the menus of S Health and the wristband itself. Improved algorithms could presumably fix the data inaccuracies I discovered in step counts and exercise tracking. Heart rate monitoring, meanwhile, could be restricted to resting situations, and eliminated from exercise reporting entirely.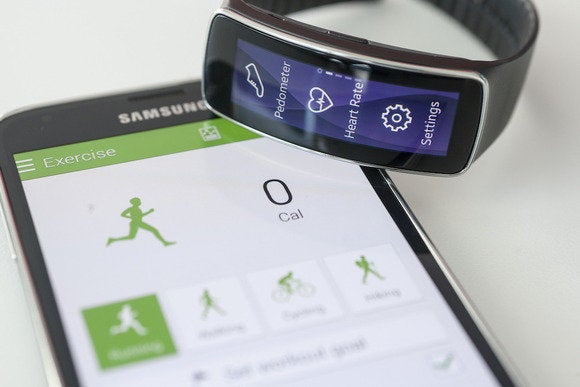 IMAGE: MICHAEL HOMNICK, C'mon, Samsung! Let's see liberal firmware improvements until the Gear Fit full realizes its hardware potential.
And sleep tracking--which was added in a firmware update just as the Gear Fit was heading for retail stores--could be expanded with much more interesting data sets. All Samsung needs to do is better leverage the sensor data it's already logging.
Samsung needs to evolve its firmware as quickly as it's already proven it can do so. I doubt there's any fix for the Gear Fit's poor battery life, but the hardware itself--and what Samsung wants to do with it--checks off so many important boxes. Now we just need software that works. If that day comes, I'll happily take a second look at the Gear Fit. There's no reason this sparkling little wristband can't be one of the better wearables we've seen.