Samsung Shape M7 Wireless Audio Speaker review: A solid multi-room audio system
If you're looking for a big multi-room speaker, Samsung's Shape system is a viable alternative to what Sonos has on offer.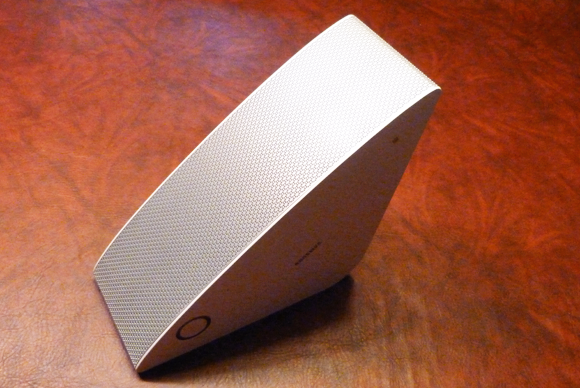 Samsung is mounting a serious challenge to Sonos in the multi-room audio market. Samsung's Shape product line includes the M7 Wireless Audio Speaker reviewed here; a pair of smaller siblings, the Shape M5 and M3; several Wireless Audio Soundbars; and a Link Mate box that lets you add non-networked audio gear to its system.
As with Sonos' numerous self-powered speakers, you can deploy a single Shape speaker and control it with your smartphone over your home network. But the real fun starts when you deploy Shapespeakers all over the house. Samsung's solution isn't as elegant as the Sonos mesh network, and Samsung doesn't support nearly as many online music services, but the M7 speaker sounds pretty good.
Samsung sent two M7s and an HW-H750 sound bar so I could evaluate the individual speakers as well as the product's multi-room chops. This review focuses on the M7 and my installation experience with the system as a whole. I'll review the HW-H750 later.
You'll need Samsung's dual-band (2.4-/5GHz) WAM250 hub if you want to set up a multi-room audio system, using whatever combination of Shape speakers and wireless sound bars you decide to deploy. This little box plugs into your Wi-Fi router and enables Samsung's smartphone app to see all the speakers. Its wall wart is way out of proportion to the box's size, but Samsung thoughtfully provides a two-port ethernet switch inside of it so you won't lose any hardwired ports on your router.
Drip, drip...
Installing the system isn't at all complicated, but it can take a long time. After you fire up the hub, you plug in the speaker. It emits some tones to let you know it's starting up, and a blue light on its front panel starts blinking. The light glows solid blue once the speaker has connected with the hub, but this was taking much too long. I was sure I'd done something wrong.
A quick peek at the user manual yielded this surprising tidbit: It can take the hub up to 20 minutes to connect to your network, and it can take the speaker up to 10 minutes to connect to the hub. I didn't time how long my setup took, but it seemed like an eternity.
Enduring the wait isn't the worst part: The speaker emits an incessant beep that sounds exactly like water falling from your home's roof gutter to the bottom of its downspout. It's torture. But once you've configured the hub and one speaker, adding additional speakers is practically automatic.
Pair the speaker and your smartphone using Bluetooth, and you can control the speakers using the free Samsung Multiroom app (available for Android and iOS phones).The pairing process is rendered particularly easy with an Android phone, because there's an NFC chip embedded in the speaker. Just tap your phone on top of the speaker and you're ready to go. Setting up an iPhone requires a few additional steps.