Smartwatches, even Apple's, still looking for mass market
Disappointing 2015 leads to disparate designs, including the 'shrink it and pink it' trend.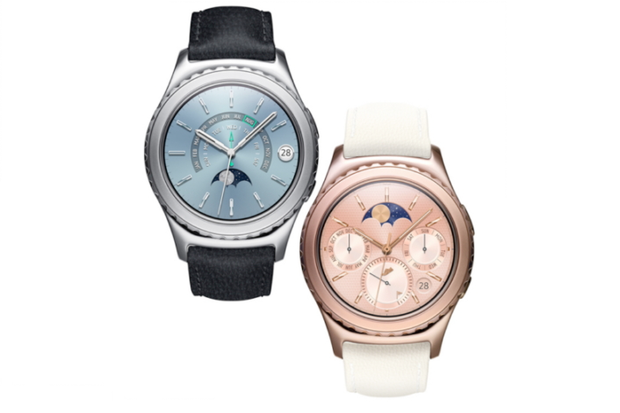 Two new editions of the Samsung Gear S2 classic, one encased in platinum and another in 18K rose gold. Credit: Samsung Electronics
Smartwatches are still a product in search of a mass market. Vendors, even market leader Apple, are hoping to reach a larger audience following disappointing sales in 2015, leading them to disparate directions in the latest designs.
On the one hand, "shrink it and pink it" was the design mandate at the CES 2016 trade show last week for some vendors which hope to attract women to pick up a smartwatch in a market heavily dominated by male buyers. On the other hand, there is also a robust interest in rugged designs, including waterproofing, that primarily will appeal to outdoorsmen.
The best evidence of that disparity is how Samsung and Casio separately announced very different smartwatches at CES.
Samsung emphasized elegance with its latest platinum and rose gold Gear S2 Classic smartwatches running on Tizen that are set to go on sale in February. Casio, meanwhile, announced the WSD-F10 Smart Outdoor Watch running Android Wear that is built to military standard specs and is set to go on sale in April in the U.S.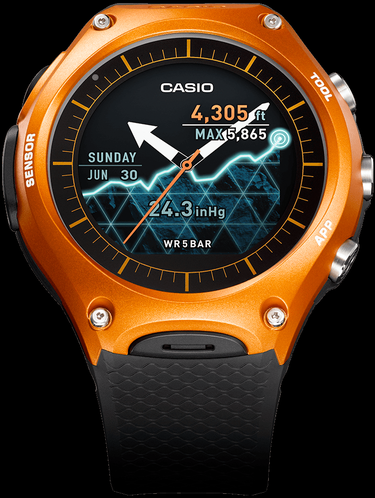 The Casio WSD-F10 Smart Outdoor Watch. Credit: Casio America Inc.
Samsung hasn't set pricing yet, although its earlier Gear S2 models announced in the fall have sold for $300 to $350. The Casio model is priced at $500.
Apple, the clear smartwatch market leader, could be announcing its second-generation Apple Watch as early as March for release later in the spring.
Analysts predict the new smartwatch won't be a round-faced model like the latest from Samsung and Casio, but it could have better battery life than the first edition released in April 2015, as well as new cellular connectivity, to allow independent operation, separating it from its current Bluetooth connectivity with a smartphone.
Disappointing sales so far
Vendors are clearly trying out new approaches in smartwatch hardware and software features to help improve on their 2015 sales.
Apple, once expected by some to sell 30 million to 40 million of the first-generation Apple Watch, shipped 13 million in 2015, IDC said last month. That 13 million was well below IDC's earlier projection of 21 million Apple Watches for 2015. Overall, IDC said 21.3 million smartwatches shipped in 2015, giving Apple 61% of the market and Android Wear, in second, 15%.
"We had higher expectations, but the result was nowhere near that," said Ramon Llamas, an IDC analyst. "With few exceptions, smartwatches depend on the smartphone connection [via Bluetooth], and as long as that relationship exists, the software will struggle to make its case within the market… Should the smartwatch be more computer-centric or more of a watch? There's a lot of gray area between those two, and vendors are trying to find what's the right spot."