Sony unveils My Xperia phone-finder, fills Google service gap
Google still hasn't baked a remote access and control app into Android, so another third-party phone maker, Sony, has designed its own service.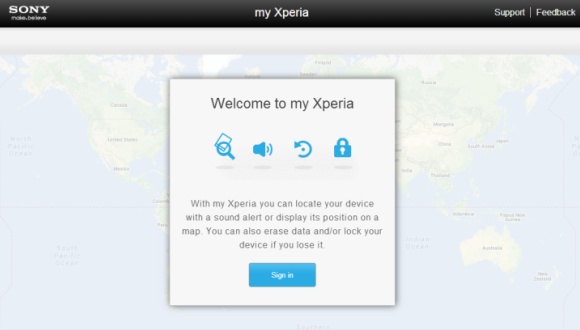 Another Android phone maker is bundling a phone-finder and remote data wipe service instead of waiting for a universal solution from Google.
Sony says its equivalent to Apple's Find My iPhone feature will be released worldwide for use on Xperia devices after a successful beta test in 2013 in Denmark, Finland, Iceland, Norway, and Sweden.
The new service, called My Xperia, offers a number of handy features that can help protect your data in the event your phone is lost or stolen, such as remote wipe and a utility to locate your lost phone on a map. My Xperia can also sound an alert that overrides silent mode and wakes the display; send a text message to the phone with contact details; and lock the device. Sony's new security service will start rolling out in the coming weeks to newer Android-based Sony Xperia phones built in 2012 and 2013.
Android's security struggles
Google's Android OS has never been a shining example of security, with reports of malware breakouts and zero day flaws now commonplace. But for a company so invested in the cloud and location services, it's surprising Google hasn't rolled out its own equivalent to Find My iPhone. Instead, Android users must rely on third-party services such as Lookout Security and Antivirus and Total Defense Mobile Security.
Lookout offers a free version of its service while Total Defense requires a subscription. Apple offers Find My iPhone as a free feature for all iOS users running iOS 5 or later, and users are prompted to activate the service during the initial setup of iPhone and iPad devices. Microsoft also offers a free service for Windows Phones similar to Apple's, called My Phone.

My Xperia enables you to find and controls your phone remotely.
Google does offer a remote wipe feature for Android devices attached to large organizations using Google Apps for Business, Education, and Government. So far, however, regular consumers have been left to find their own solutions, meaning only the most security-minded Android users are likely to install a third-party security app. A Google representative was not available for further comment at this writing due to the American Independence Day holiday.
Third-party workarounds
To get around Google's security deficit, Android phone makers have been coming up with their own solutions. HTC in 2010 offered a security service via HTCSense.com with features such as remote wipe, device locking, and the capability to forward text messages and phone calls to another number. However, the company has discontinued that service and plans to announce an updated security offering later.