Spec showdown: Google's Pixel C tablet vs. Microsoft's Surface 3
The Pixel C looks a lot like a Surface 3, but can it compete with Microsoft's basic tablet?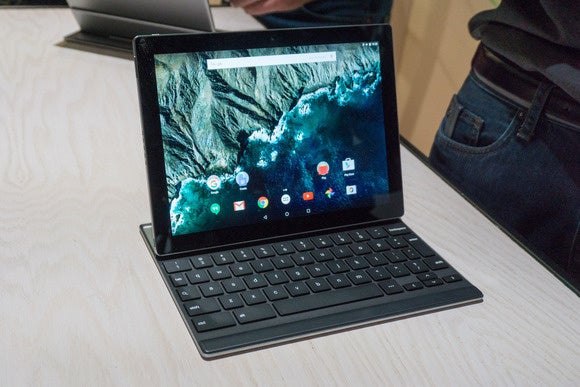 Credit: Jason Cross
There's nothing like a good ol' fashioned tech showdown between two similar devices that offer vastly different experiences. Thanks to Google challenging Microsoft's Surface 3 tablet with the Pixel C, it's time for just such a brawl!
In one corner, you've got Microsoft's 10.8-inch, 2-in-1 tablet rocking the full-fat version of Windows 10, versus Google's 10.2-inch, 2-in-1 slate equipped with Android 6.0.
Once the Pixel C rolls out later this year we'll be able to take this battle to the test bench and see how it truly stands up in the real world compared to the Surface 3. But for now, the basic spec sheets will have to do.
The hardware
Let's start with the challenger and newest addition, Google's Pixel C (pictured at top). This device features a 10.2-inch touchscreen with 2560-by-1800 resolution. It's powered by an Nvidia Tegra X1 mobile processor with a Maxwell-based GPU. The Pixel C also comes with 3GB of RAM, USB-C for charging and connectivity, 32 or 64GB of onboard storage, and an optional Bluetooth wireless keyboard.
The Surface 3 offers a slightly larger 10.8-inch display with a lower 1920-by-1080 resolution. For computing power, Microsoft opted for the quad-core 1.6GHz Intel Atom x7-Z8700 processor, 64GB or 128GB of storage, and either 2GB or 4GB of RAM. The Surface tablet also comes with a USB 3.0 port, a Mini DisplayPort, a microSD card reader, and micro-USB for charging. Additionally, the Surface 3 offers an LTE option, which the Pixel C doesn't have.
Both devices come with a keyboard that snaps onto the bottom of the tablet through the magic of magnets, but the Surface 3 Type Cover holds a key advantage: it's backlit.
When it comes to the display, you've got to give it to the Pixel C since the resolution is so much higher. The Surface 3 easily wins on storage and ports, while the RAM and processors are a bit of a wash, although the Pixel C's Nvidia Maxwell GPU will definitely be nice for Android games.
Software
When it comes to operating systems, the Surface 3 obviously has the upper hand since it's rocking Windows. But a full desktop operating system isn't everything. The Pixel C can still run the mobile versions of Microsoft Office, it has a far greater mobile catalog than the Windows Store, and it's deeply integrated with Google's services, as only Android can be.
I'd give the software win to the Surface 3, but personal preference is everything when you're talking about the ideal OS for a grab-and-go 2-in-1 tablet. Many people will be perfectly content, or even prefer, Android for a tablet like this—even one with a physical keyboard. Really, it depends on whether you plan to use your convertible more as a tablet, or more frequently in laptop-esque form. Android holds the advantage in the former case; Windows in the latter.