Stamp out e-mail annoyances
Care to synchronize Mail's junk-mail settings between computers, fix an unaccepted password, and send messages from just about anywhere? We have answers to common e-mail problems here.
To troubleshoot a Mac problem, open Mail's preferences (Mail -> Preferences), select the Accounts tab, and re-enter your password in the Password field. Then launch Keychain Access (found in /Applications/Utilities) and locate your e-mail account using the Search field (enter mail.me.com, for example). Enable the Show Password option. When prompted, enter your Administrator password and click Allow. Take a look at the password that appears in the Show Password field and make sure it matches the password you believe is correct. If there's no password, add it and click Save Changes.
Next, be sure that you're using the correct port setting. You'll find this setting by opening Mail's preferences, selecting Accounts, selecting the account in question, and clicking the Advanced tab. The receiving port will appear in the middle of the window. Your ISP or IT person can tell you which port you should be using.
If all else fails, delete the account in Mail's Accounts preference and recreate it. (If you have a POP account, be sure to back up your messages first, as they'll be deleted along with the account.) When you do, be sure that you have all the correct settings for configuring your account. Again, your ISP or IT person should be able to supply you with that information.
Send e-mail successfully from public places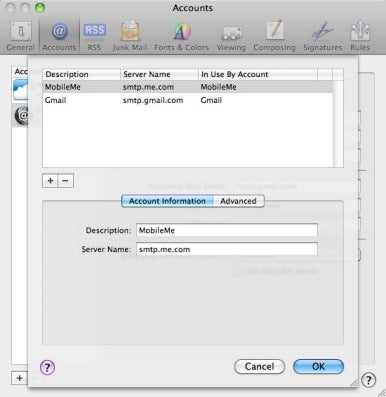 If you give Mail more than one choice of SMTP server, it will check the next in the list when your first choice isn't available.
It's probably a piece of cake for you to send e-mail messages from home or your business, but you may find it difficult to do so from such public locations as coffee shops and hotels. The reason for this is that such locations often block common SMTP (Simple Mail Transfer Protocol—the e-mail transmission standard) ports.
One way around this is to add a free Gmail or Yahoo account. The SMTP ports used by these services are very rarely blocked. Then configure your Mail accounts to send from this account if it can't from your regular e-mail account.
To do that, launch Mail, open Mail's preferences, and select the Accounts tab. Select your regular e-mail account and in the Account Information tab be sure that your Gmail or Yahoo account appears in the Outgoing Mail Server (SMTP) pop-up menu. Now disable the Use Only This Server option. (You can add or delete SMTP servers by choosing Edit SMTP Server List from this pop-up menu and clicking the Plus or Minus buttons—as seen in the accompanying screenshot.) When you're next out and about and want to send e-mail, Mail will attempt to send from the SMTP server configured in the Account Information window. If it fails to do so, it will try any other SMTP servers found in the list of outgoing mail servers—and that includes a Gmail and Yahoo server.