Study names the five most hackable vehicles
Intel creates Automotive Security Review Board to look into vehicle cyber threats
A study released by a forensic consultancy has singled out the top five vehicles most susceptible to hacking.
The results of the study, by PT&C|LWG Forensic Consulting Services, were based on published research by hackers, vehicle recall information and media reports.
The most hackable list includes the 2014 Jeep Cherokee, the 2014 Infiniti Q50, the 2015 Cadillac Escalade, the 2010 and 2014 Toyota Prius and the 2014 Ford Fusion.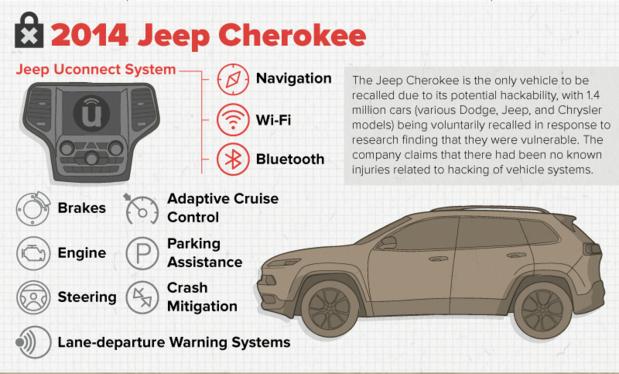 PT&C|LWG Forensic Consulting Services. Click on image to enlarge.
The 2014 Jeep Cherokee was singled out as potentially hackable because of research that found its Uconnect Infotainment system was vulnerable.
The study also includes the least hackable cars: The 2014 Audi A8, the 2014 Dodge Viper, the 2014 Honda Accord and the Tesla Model S (no particular year provided).
PT&C|LWG's least hackable car list was based on the vehicles having either fewer computer systems, such as the Dodge Viper, or fewer networked components communicating with each other, such as the Audi A8.
"So there just aren't as many access points," said Robert Gragg, a forensic analyst with PT&C|LWG.

U.S. DOT Car manufacturers are in a race to deploy wireless connectivity to vehicle head units (infotainment systems).
Tesla was chosen as least hackable because the all-electric vehicle's head units are based on Linux.
"If you look at all the malware out there, it's written mainly for Windows OS systems. Linux is a more robust operating system and more difficult to write malicious code to," Gragg said.
Conversely, the cars with the highest risk of cyber threat tended to have the most features networked together, especially where radio or Wi-Fi networks are connected to physical components of vehicles, according to Gragg.
Gartner predicts that by 2020, the number of wirelessly connected passenger vehicles on the road will reach 150 million, and 60% to 75% of them will be capable of consuming, creating and sharing Web-based data.
To address the future threats posed by wireless hacking of vehicles, Intel today announced it has established the Automotive Security Review Board (ASRB) to help mitigate cybersecurity risks associated with connected automobiles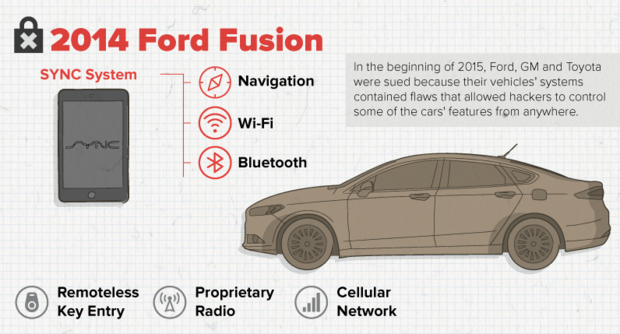 PT&C|LWG Forensic Consulting Services
The 2014 Ford Fusion was selected as being vulnterable because of software flaws that allowed hackers to access vehicle systems from anywhere.
The board will be comprised of top security industry talent across the globe, with particular areas of expertise in cyber-physical systems. The ASRB researchers will perform ongoing security tests and audits intended to codify best practices and design recommendations for advanced cybersecurity solutions and products to benefit the automobile industry and drivers. Intel also published the first version of its automotive cybersecurity best practices white paper, which the company will continue to update based on ASRB findings.