Switch to Mac: Security basics
Just purchased your first Mac, or thinking of making the switch? Rich Mogull goes over what you need to know about security, antivirus software, and more
Manage your user accounts: Managing user accounts is similar in the Mac OS and Windows; OS X just has a slightly different organization strategy. Some settings are in the Users & Groups system preference pane, while others are in Security & Privacy.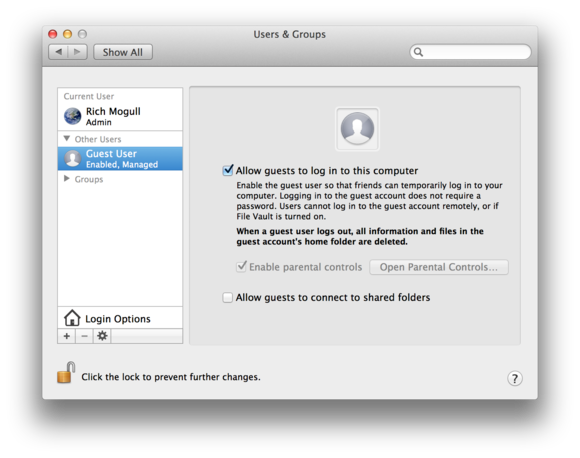 OS X includes a guest account login by default.
By default, your Mac includes a default guest account; it allows friends and guests to work on your Mac in an empty user account. When your friend is finished and logs out, the account is wiped. You can manage this feature in Users & Groups; to control when passwords are required, however, you have to go to Security & Privacy > General.
You can also enter the Parental Controls preference pane to add specific restrictions to the Guest User account or any other account on your machine.
Add firewall protection: Your Mac's built-in firewall isn't quite as robust as the Windows one, as it won't automatically adjust itself based on the network you are on. This limitation is okay, though, since network attacks aren't nearly as common as they used to be.
Go to System Preferences > Security & Privacy > Firewall to turn on the firewall; it works similarly to the Windows Firewall by default, blocking incoming connections on a per-application basis. If you want, you can also block all connections under 'Firewall Options'.
Unlike Windows, your Mac doesn't include an outbound firewall, but you can always add one if you wish by installing a third-party program such as Objective Development's Little Snitch.
Built-in antivirus support: Your Mac includes a (very) basic antivirus feature (called XProtect or File Quarantine) that operates in the background to keep you from running into trouble while you're browsing the Web. It's similar to—though not as powerful as—Microsoft's Security Essentials.
Safari, Apple's built-in Web browser, doesn't have all the same protections found in the latest version of Internet Explorer, but it still offers several great security options, such as the ability to allow Java—an oft-hacked technology available as a plug-in—only on specific sites. By default, Java isn't even installed on your Mac, so you can eschew using the plug-in altogether if you prefer.
OS X's built-in security
OS X includes two powerful security features that aren't available on consumer versions of Windows.
Full hard-drive encryption: Encrypt your entire hard drive (and external hard drives) with FileVault. You can find it by going to System Preferences > Security & Privacy > FileVault. It's similar to Microsoft's BitLocker—but that utility is available only in the Windows Enterprise and Ultimate editions, whereas FileVault is available for all OS X users.