The 2014 Lexus IS 350 is techie without trying too hard
Subscription-free traffic and weather sweetens the tech deal.
There we were, in a high-ceilinged loft space in the artsy Dogpatch section of San Francisco. The walls were white. The furniture was white. A DJ supervised a thumping soundtrack. And parked on the smooth concrete floor under bright lights were two Lexus IS sedans.

The Lexus IS coupes were parked in an ultrahip, white-on-white loft space.
The crowd consisted of slightly rumpled automotive and tech journalists (myself included) and sleekly trendy blogger types. We all snapped photos to post on Twitter and noshed on treats from food trucks parked outside just for us.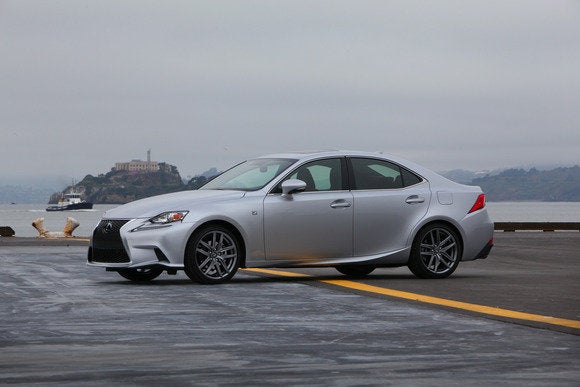 A car as cool as San Francisco
Lexus had made a concerted effort to associate the IS with all the coolest aspects of one of the coolest cities. Like a new kid at school trying a little too hard to fit in. However, when I drove one the next day, the vibe I got from the car was precisely the opposite: It was as cool as a cucumber without trying. Or at least, not seeming to. And that included the tech.
This car has plenty of it: The IS 350 I drove was the 'F Sport' model, whose race-y embellishments include a TFT instrument cluster taken directly from the Lexus LFA Supercar. The Navigation Package also built into the car adds infotainment, device ports, a backup camera, and even voice commands. But all the tech is subtle, part of the overall, leather-wrapped package-a genteel contrast to the ostentation (however luscious) of the Tesla Model S. Even on a short jaunt, I could appreciate that subdued elegance.
What Devil's Slide?
A fellow journalist took us south on Highway 1 toward Half Moon Bay. We'd lucked into a clear, warm day on the coast. The stunning view distracted me from my job of checking out the buttons and gizmos. (And the car's handling was so sure, I barely noticed when we passed through the notoriously twisty Devil's Slide section.)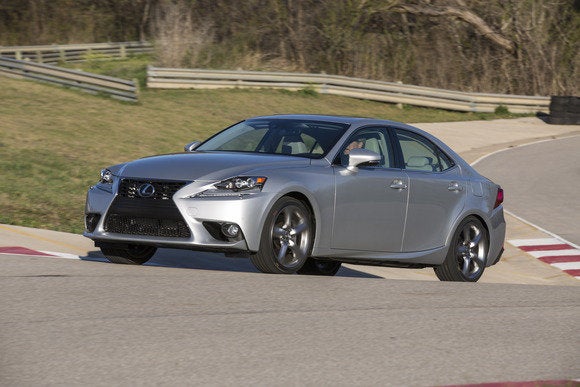 The Lexus IS handles curvy roads with impressive stability and speed.
A 7-inch VGA screen nestles discreetly in the upper dashboard, offering an interface for the audio, navigation, phone, climate, and other functions. The display also shows the backup camera view, available with the Navigation Package.

A 7-inch VGA display nestles in the center dashboard.
You move around the screen using a joystick-not a casual, Atari-esque one, but rather a stylish, ergonomically designed interface consisting of a broad, leather-topped pad, located in the center console just beyond the gear shift.