The hidden software tricks AMD and Nvidia use to supercharge VR gaming
With VR gaming, hardware's only part of the equation.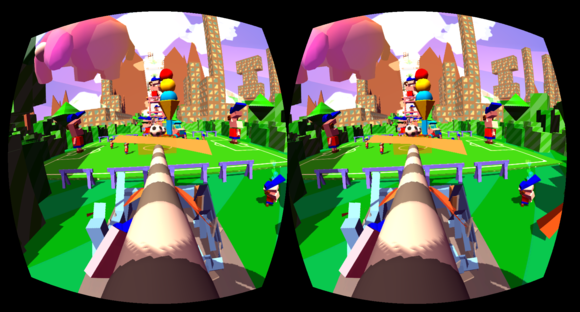 A scene from the joyful Dumpy: Going Elephants demo for Oculus Rift.
That warping compresses the edges of the images, throwing away a lot of the native imagery produced by the GPU. Your graphics card is essentially working harder than it has to. Multi-resolution shading splits the screen into separate regions. The center of the image—where your eyes primarily focus in a VR headset, and where the image isn't distorted—is rendered at full, native resolution. The edges of the screen, however, are rendered at a reduced quality to take advantage of VR's necessary warping and distortion, which cuts back on the scaling and lets developers show a scene with far fewer pixels. Fewer pixels pushed means you can get more performance out of your hardware.
And when Nvidia says fewer pixels are needed, it means a lot fewer pixels. "It's between 50 percent and 100 percent less pixel work [compared to traditionally rendered VR scenes]," Tom Peterson, a distinguished engineer at Nvidia, told me when I tried the technology less year.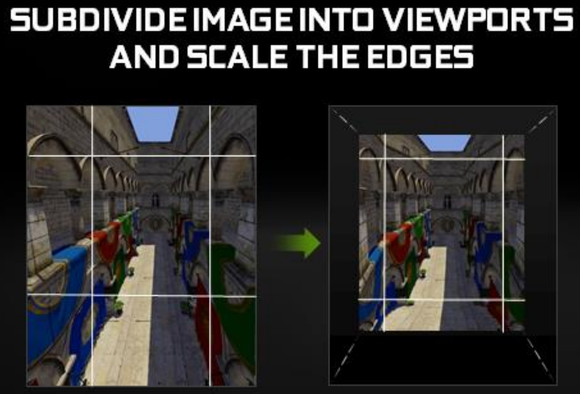 The basic principle behind Nvidia's multi-resolution gaming.
It works, too. Here's what I said at the time:
At a 30 percent reduction in pixel work, there was no visible difference with MRS enabled or disabled. There was no drop in fidelity, no sudden jarring sensation or flickering when turning the tech on or off—nothing. It just looked like it should.

In order to truly make the reduced rendering visible, Peterson had to crank the compression up to 50 percent, or half the workload of the same image rendered at full resolution across the board. Only then was the effect noticeable, as a faint shimmering around the very edges of the image. The effect was minimal, however, and that's when I was specifically looking for it on the edges. When staring at the center of the display, which was rendered at full fidelity, the compressed resolution at the edges could only very barely be seen, no doubt thanks to the way the human eye views images in our peripheral vision with far less detail than what we're directly looking at.
Powerful stuff indeed. While developers will need to integrate multi-res shading support into their games, Burke says Sólfar Studios has embraced it for its wonderfully terrifying Everest VR experience, and InnerVision Games is incorporating it in Thunderbird: The Legend Begins.
Day one driver support
But AMD and Nvidia can also take VR performance more directly into their hands, in the form of timely driver updates for new games and experiences.
Previous Page 1 2 3 4 5 Next Page