The hidden software tricks AMD and Nvidia use to supercharge VR gaming
With VR gaming, hardware's only part of the equation.
"Our Game Ready drivers are a magic bullet," says Burke. "Nvidia invests an enormous amount of time working closely with developers to make sure games work out of the box with our drivers, on the day the game ships. This is incredibly important for VR, as the slightest stutter or performance dip can ruin the experience."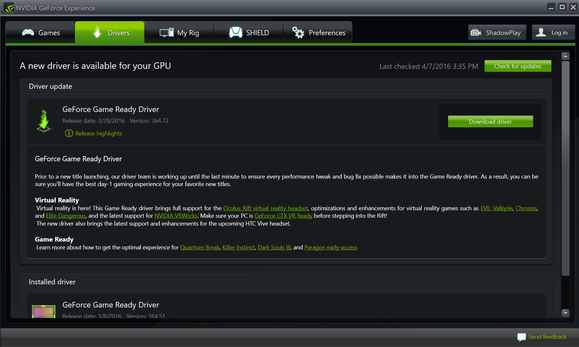 Here Nvidia's slick GeForce Experience hub offers to install the company's day one drivers for the Oculus Rift and its top games.
Nvidia's earned the right to boast. Its WHQL-certified Game Ready drivers have been unleashed at a blistering pace for over a year. Barely a week goes by without a new Game Ready driver released with day one support for the biggest games hitting the streets. And despite saying that it'd lock those Game Ready drivers to registered GeForce Experience users only by the end of 2016, they're still freely available for anyone to download on Nvidia's website. That's a great thing for gamers. Here's hoping they stay open indefinitely.
The public perception of AMD's driver support has suffered in recent years, on the other hand—and rightfully so. Radeon driver releases were few and far between for a while there, with fresh drivers for hot new games sometimes coming days or even weeks after launch. But that's changed in recent times. Ever since AMD organized the dedicated new Radeon Technologies Group under GPU czar Raja Koduri, driver updates have been flying out with much more frequency and regularity. That's no coincidence: Koduri's been beating the drum about software's importance since he assumed the reins.
"Software is the first thing people see on their screen, the first part of their experience," AMD's Sasa Marinkovic told PCWorld late last year while introducing Radeon's annual feature-stuffed software update, dubbed Radeon Software Crimson. With Crimson, Marinkovic added, Radeon's "software is as equally represented as the hardware."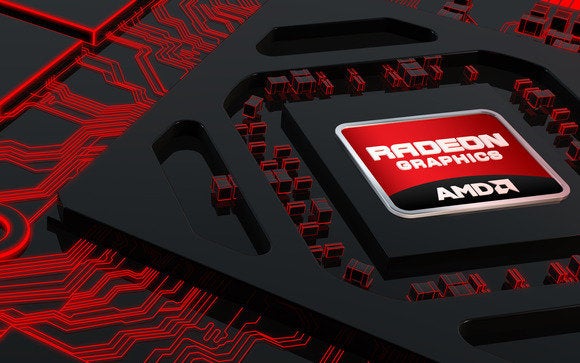 The company's putting its money where its mouth is, too. I couldn't track down older software releases on AMD's software site, so I reached out to representatives for concrete information on AMD's driver count for the first three months of 2016 compared to the first three months of 2015. Here's what they had to say:
AMD issued one beta driver in January to March of 2015. In January to March of 2016, AMD issued three WHQL drivers in addition to seven game day one drivers in Q1 2016 for a total of 10. This reflects AMD's renewed commitment to software with the launch of Radeon Software Crimson. As you may remember from your briefings in the fall, AMD promised to deliver more WHQL certified drivers and game day one drivers for customers and is delivering.
Previous Page 1 2 3 4 5 Next Page