The iPad Pro is a pilot fish for Apple's ARM Laptop
The latest iPad is a distinctly different creature than its predecessors, and Apple openly compared it to a laptop in specs. But is it a sign of even greater convergence?
Apple even noted the Pro has better performance than 80 percent of the laptops on the market. That 20 percent is key, though. Apple's laptop sales are just above 10 percent of unit shipments worldwide, and Apple's lowest-performing model is faster than most other laptops. Thus Apple doesn't sell any laptops slower than the iPad Pro. The iPad Pro hasn't yet been benchmarked against notebook computers, but its performance is likely competitive with an entry-level MacBook Air.
Why praise the Pro in this context if it isn't a test to see whether the market is waiting for something that combines attributes of a laptop and a tablet without the drawbacks of either? Even the best tablets suffer from system constraints, while laptops with capacitive touchscreens are highly awkward to use.
Microsoft went down this path, and tried to marry the two. The desktop OS would benefit from touch gesture support, making laptops more flexible, the case went. Meanwhile, phones and tablets could run the same software as on the desktop—except they couldn't, really. The promise of a single OS powering all types of devices is only just beginning to emerge in the Windows universe.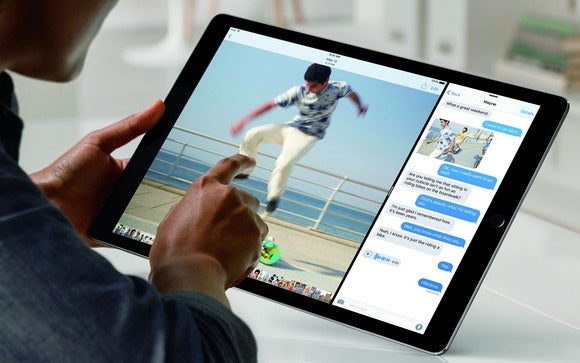 An ARM-based laptop is more likely from Apple than one with a touchscreen. Credit: Apple
Microsoft's current mission is to make the best native apps for every OS iteration on which its software can run. Last week, Apple made a similar case, explaining how software optimized for the iPad Pro keyboard experience could be as good as, or better than, a comparable laptop version. That's irony, but also good for Apple's future.
A reasonable person could argue the iPad Pro is a niche product that will have a high margin at its price point, and will be embraced by illustrators, artists, architects, and others who already integrate an iPad Air 2 (or a Wacom Cintiq tablet) into their workflow. Indeed, a bigger iPad with a pressure- and direction-sensitive stylus and keyboard just makes everything that's right about iPad even better for this highly specialized user base.
But millions of people buying the iPad Pro? That's hard to see, unless I'm misjudging the market.
The Macintosh Way—way, way into the future
In June, Wall Street Journal columnist Christopher Mims suggested Apple drop the Mac. He argued that computers were distracting Apple from its core business, and noted that laptops and desktops account for only 10 percent of Apple's revenue. I argued at the time that Apple would be abandoning a loyal audience, including video, design, animation, and illustration professionals—and amateurs, too. iOS devices don't have the performance for high-end computing, and iOS developers can't even build their apps on iPads.