The top 5 reasons to upgrade to Windows 8.1
Sure, Windows 8.1 may be more about refinement than revolution, but it has some killer tweaks to entice users to check it out.
3. Versatile app snapping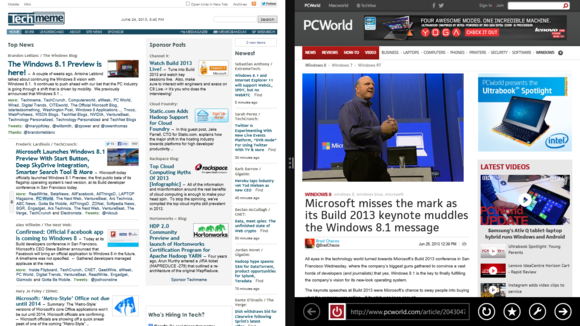 Another big plus in the Windows 8.1 preview is its more-flexible Snap function, which allows you to have multiple modern-style apps open at once. In Windows 8 vanilla, you're limited to having two apps open simultaneously: One fills 75 percent of the screen, while the other is relegated to the last quarter. That seriously cramps Snap's usefulness.
Windows 8.1 shatters its predecessor's artificial barriers. Depending on your display's resolution, you can have as many as four apps snapped on a single screen, and you can now dynamically alter the size of snapped windows. Being able to dedicate half the screen each to two apps seriously boosts Windows 8.1's productivity chops.
The Snap changes may sound minor, but they add up to a huge usability improvement—especially when paired with the newfound ability to open the modern version of Internet Explorer 11 in multiple windows at once.
4. Cohesive search results
Windows 8's Search charm was pretty helpful, but Windows 8.1's Smart Search blows it out of the water. Rather than separating search results into distinct Apps, Settings, and Files categories, Windows 8.1 pools everything into a single cohesive search results page, complete with results from other apps, including SkyDrive, Bing Web search, and the Video and Music apps.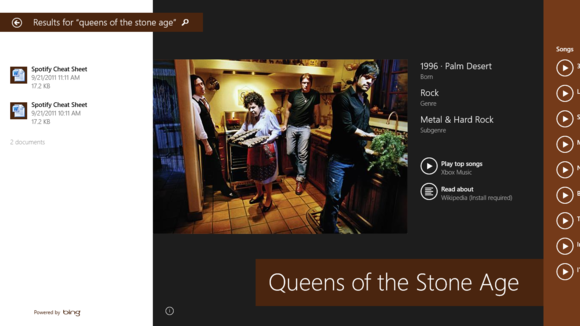 Windows 8.1's Smart Search pools local and Web-sourced data into one collection of search results, like this aggregate on Queens of the Stone Age
That makes Windows 8.1's search incredibly versatile and incredibly helpful. Searching for the band Queens of the Stone Age, for example, popped up an eye-catching picture of the group, a couple of documents where I'd mentioned them, biographical info, the ability to stream their songs using the Music app, Bing search results, and recommendations for a couple of apps that could provide more info about the group.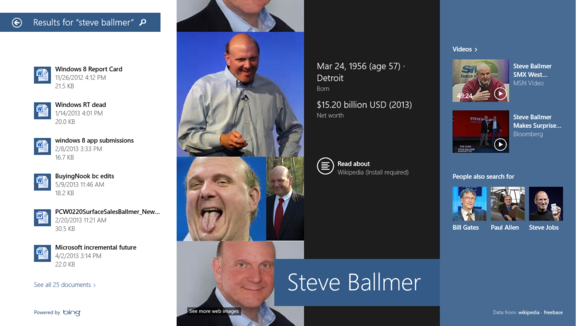 Windows Smart Search also scooped up a barrel o' data on Microsoft CEO Steve Ballmer with impressive ease.
Searching for Microsoft CEO Steve Ballmer, on the other hand, also revealed some local documents, but his results included numerous videos, related search topics, and a lot more.
If Microsoft had added only Smart Search to Windows 8.1, it would've been enough to convince me to install the update. Yes, it's that good.
5. New features in every corner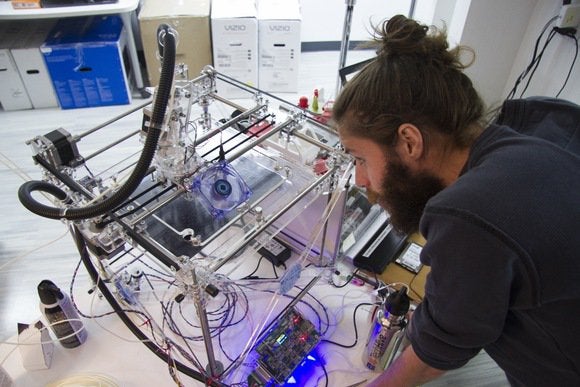 Windows 8.1 includes support for 3D printers. How cool is that?
The Windows 8.1 preview is also jam-packed with all kinds of hidden features. From Miracast streaming to 3D printer support to Photosynth-style panoramas in the Camera app to the veritable cornucopia of new features buried in the revamped PC Settings menu, there's something new and interesting in every nook and cranny. (And that's not even counting the deep bench of new and updated native apps, like the vastly improved Windows Store.)