The two-browser strategy for Windows 10, at least for now
Microsoft demoed a new Windows 10 browser on Wednesday.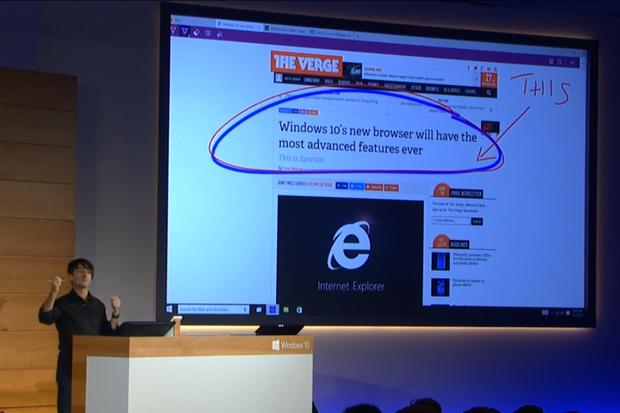 Whether we saw Internet Explorer 12 or a curious new alternative browser from Microsoft remains unknown, even after the conclusion of Wednesday's Windows 10 preview event in Redmond, Washington.
Following the event, reporters were given hands-on demonstrations of the next Windows 10 build to be distributed to testers.
During the keynote session Joe Belfiore, Microsoft's corporate vice president for operating systems, introduced a different Web browser, calling it by its code name, "Spartan." It came as little surprise to many reporters in the room who had already seen leaked screenshots. It's a more minimalist browser, but not as obtuse and unfamiliar as the strange "Metro-style" browser that accompanied the first Windows 8.
What was surprising was the lack of a clear objective for Spartan. It may, or may not, replace Internet Explorer 11; and it may, or may not, become Internet Explorer 12.
"Since we've had this rapid evolution of the Web, and since we're building this new set of devices on Windows 10, the Universal platform, we think it's the right time to build a new browser for the modern Web which will empower our next generation of Windows users on Windows 10," Belfiore said.
He then proceeded to demonstrate a way to use pen drawing to mark up Web pages rendered on Spartan. The page he chose was a story on The Verge that talked up the virtues of Microsoft's new Web browser, and illustrated it with the familiar "e" logo of Internet Explorer.
For now, Spartan has its own distinctive icon in the new Windows 10 taskbar.
However, reporters invited to experiment with the Windows 10 build that will soon be distributed to testers noted the absence of Spartan altogether. In its place was a browser that company officials leading the demonstration referred to explicitly as Internet Explorer 12. One company representative said Spartan will become available to Windows 10's "Insiders" as a separate installation -- an alternative browser that takes IE12's place the same way Google Chrome can.
The duality isn't gone yet
It's not a nitpicking issue, especially for developers who would like to build Web apps that are functional in Windows 10 but have no idea where that functionality will be staged. Understanding the issue requires a bit of background.
There are two parts of a Web browser that are responsible for its relative performance. One is the JavaScript interpreter, which defines the functionality of a Web page or the client-side (user) portion of a Web app. The other is the rendering engine, which in essence is the printing press of the system. The challenge for each browser maker is to develop interpreting and rendering components that can handle the same raw material from the Web better than the competition.