The wireless router reinvented: Eero brings mesh networking to consumer Wi-Fi
With the financial backing of some of Silicon Valley's heavy hitters, this startup could succeed where so many have failed.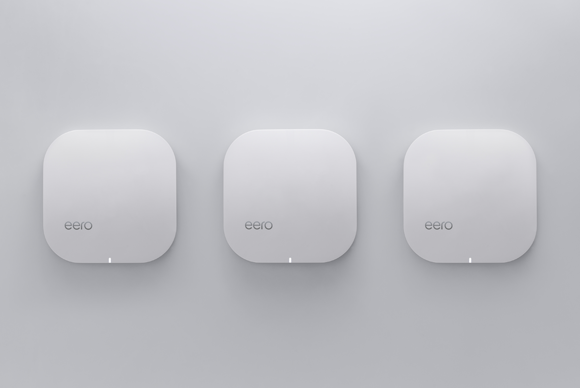 Stop me if you've heard this one before. A brand-new company says it's designed a Wi-Fi router that's going to change the way consumers think about and use Wi-Fi routers. This new product is will solve all the problems the average consumer has with their home network, from eliminating dead spots to preventing their kids from getting to the seamier side of the web. And it won't cost a fortune.
Yeah, I've heard this story more times that I can count. But something tells me it's going to be different this time, after CEO and co-founder Nick Weaver showed a prototype of the Eero router to me last week.
So what makes this router so special?
On the surface, the Eero sounds much like any other router. It's a dual-band 802.11ac model that operates independent networks on the 2.4- and 5GHz frequency bands. Unlike the typical Wi-Fi router, however, Eero is also equipped with a Bluetooth radio. I'll dive deeper into the hardware later, because it's the software that Weaver promises will deliver the goods.
For most people, the biggest problems with home Wi-Fi are dead spots in certain areas of the home and/or not having enough wireless bandwidth to stream music and video everywhere in the home. But most of the time, you don't realize this until you've already purchased your router. Then you find yourself going back to the store for a range extender, or a wireless bridge, or a MoCA or power-line Ethernet adapter and then figuring out how to set that up.
In a best-case scenario, that could mean having two different access points with different SSIDs and login credentials. In a worst-case scenario, that could entail stringing new cable. Either way, you need to know at least a little about networking to get everything to work together the way you want.
Eero's solution is to take a page from the Z-Wave and Sonos playbooks: Deploy a Wi-Fi mesh network that throws a blanket of connectivity over the entire home. This envisions using a system of three Eero routers. You plug the first one into your cable or DSL modem, and then launch an app on your smartphone. The phone communicates with the router using Bluetooth and then guides you to the best spots to place the other two Eeros, which automatically configure themselves as wireless access points. When you're done, Weaver said, you have one SSID, one password, and one contiguous Wi-Fi and Bluetooth network throughout your entire home.
When you want to allow a guest to access your network, you can either send them the login data from your smartphone app; or if they have the Eero app on their device, you can simply touch a button to grant them access.