These 7 innovative weather apps break all the rules
Weather apps are as numerous and varied as clouds in the sky, but some take the same old data much farther than a simple 5-day forecast.
Weather apps come in as many flavors as degrees on a thermometer, but most of them serve a similar purpose—telling you the forecast.
Some get fancier by showing you what you ought to wear or alerting you just moments before it starts raining so you have time to get the laundry off the clothesline. But we went hunting for those special snowflakes, apps that present weather data in unique, surprising ways. From slick design to social integration, these apps are like a cool breeze on a stifling day—and yes, they can still deliver the forecast.
Foresee—iOS ($1)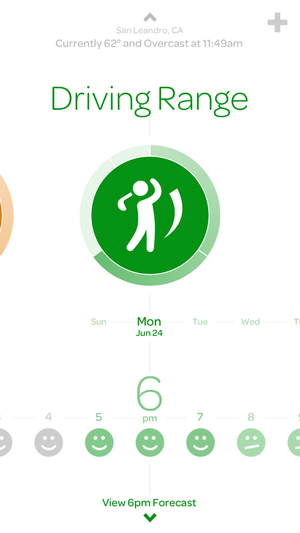 Let's face it, sometimes it's just too cold for the beach, no matter how much you wish it weren't, and it's downright cruel to make yourself mow the lawn when the twin thugs of heat and humidity are at their worst. Foresee lets you set ideal conditions for a huge range of outdoor activities, and then it checks the forecast and gives you an idea of when you might like to do those things. When you find the perfect time, you can post it to Facebook or Twitter to cajole your friends into coming along.
The vast list of built-in activities includes picnics, a trip to the amusement park, kayaking, and snowboarding, as well as more chore-like fare like mowing the grass or golfing. (Just kidding, golfers, calm down. Actually you'll be thrilled to know you can set different conditions for putting practice, the driving range, and a full round.) For each activity, you can set up to three of six conditions: temperature, chance of rain or snow, cloud cover, UV index, wind, and humidity. Track as many cities as you like, with unique activities in each one.
The navigation is fluid and invuitive, and with its bright colors, round icons, and thin type on a white background, it feels designed for iOS 7. And for me at least, it's also a good motivation to get off the couch and enjoy a hike while the weather is nice, because, really, Netflix isn't going anywhere.
Morning—iOS ($3)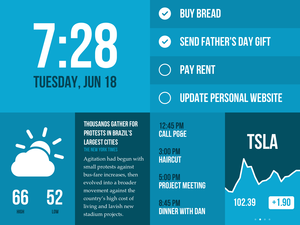 Another app designed to complement iOS 7's flat aesthetic and bright colors, the iPad-only Morning is kind of like Status Board for the beginning of your day. It integrates the time, your calendar appointments and reminders list, news, stocks, your commute time—and yes, weather—into a flexible, customizable, clean display.
It could use a few more features, but since the app is barely a week old, Morning's day is still young. Developer Tinder plans to integrate data from other apps (say, fitness trackers and more to-do apps). Currently the weather panel can show basic info like the day's high and low temps, or a more robust version that includes an hourly forecast plus humidity, chance of precipitation, dew point, and wind speed.