These 7 innovative weather apps break all the rules
Weather apps are as numerous and varied as clouds in the sky, but some take the same old data much farther than a simple 5-day forecast.
Weathermob—iOS (Free)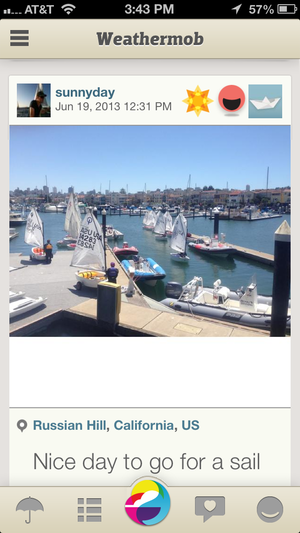 When a social butterfly flaps its wings in San Francisco, how does that affect the rainfall in Prospect Park? Weathermob's raison d'etre is helping you share the weather details at your location, in a lighthearted, almost silly way.
The report screen doesn't ask for details like precipitation levels or temperature (presumably it knows that already), but you can spin three dials to tell the world the overall sunny/cloudy/rainy one-word weather report, plus how you feel about it and what it's good for—because apparently the mob wants to know if you're in a great mood and think conditions are ideal for chasing butterflies.
Luckily, less slot machine-inspired options let you compose a 140-character missive (a format as familiar as the chilly San Francisco fog), snap a photo or video, or add one or the other from your camera roll. So it's kind of like a weather-themed Instagram/Twitter clone, and you can post to Twitter or Facebook too. If you're dying for one more friends list, you can follow users that show up in local feeds, and like and comment on their posts. This iPhone-only app (updated Friday to version 2.0) feels a little overly complicated for what it delivers, but if you want to see what other weather geeks around the globe are reporting, it's worth checking out.
On the more serious tip, if you want to share actual data with legitimate scientists, the mPING app lets you report weather conditions to the NOAA's National Severe Storms Laboratory and the University of Oklahoma, which run the mPING Project, or Meteorological Phenomena Indentification Near the Ground. The app is pretty bare-bones, but it's free for both Android and iOS.
InstaWeather Pro—iOS and Android ($2)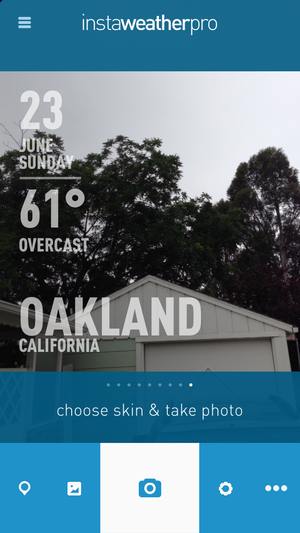 If you'd rather post images of the weather—gorgeous or inclement, it doesn't matter—to social networks like Instagram, Facebook, and Flickr, go for InstaWeather Pro, which overlays weather data on your pictures. You can choose from dozens of options, including some that even give the forecast for up to seven days.
So if you take a shot of yourself bunded up in a snowstorm, your friends don't have to guess (or take your word for it) that it's 10 degrees below freakin' zero with 30mph winds. Your picture will clearly tell them. Conversely, that shot of you sunbathing on a yacht in Cannes will make your friends even more jealous if they can see that it was also a perfect 83-degree day with nearly no humidity. Why not take photobragging to a whole new level by claiming credit for weather you had nothing to do with? It's the American way.