This 3D printer can rival standard manufacturing on the factory floor
It can build limited product runs of up to 45,000 units
Start-up Carbon began shipping its industrial-grade 3D printer with the expectation that big-name companies will soon be using it to replace traditional forms of manufacturing.
Last year, the Silicon Valley company emerged from quiet mode to announce its technology: a machine that can create objects 25 to 100 times faster than other 3D printers.
Carbon is not selling its M1 3D printer outright, but instead is offering it through a subscription price of $40,000 per year, which includes a service and maintenance plan.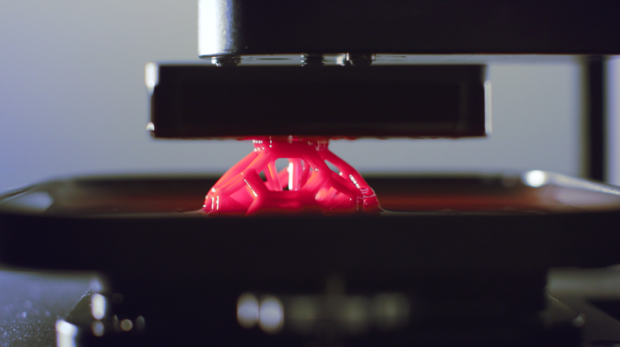 Carbon Similar to existing stereolithography (SLA) rapid prototyping processes, the Carbon M1 3D printer uses an ultraviolet light projector under a light-sensitive resin pool to harden the liquid and then pulls the object from the pool.
The three-year-old company based in Redwood City, Calif. said its Continuous Liquid Interface Production (CLIP) printing process can create objects in minutes compared to the hours a typical 3D printer requires.
Kirk Phelps, Carbon's vice president of product management, said the M1 can print production-ready parts that can achieve price parity with traditional manufacturing methods with runs of up to 45,000 units.
Because the cost of parts is amortized over an entire run, the more parts made, the less each unit costs. So Carbon is estimating price parity for production runs of around 45,000.
Many parts can print at 200 to 350 millimeters per hour, Phelps said. "A thin-walled duct for the aerospace industry can print at 500 millimeters per hour," he added.
"There are lots of applications in the automotive and aerospace industries with 45,000 part runs," Phelps said. Compared to traditional manufacturing methods such as injection molding, 3D printing carries with it no upfront capital costs other than the machine itself. There is no engineering of steel or aluminum tools for each new part runoff and engineering costs are reduced because modifying designs can be done with CAD software that is transferred directly to 3D slicer software for printing.
Similar to existing stereolithography (SLA) rapid prototyping processes, the Carbon M1 3D printer uses an ultraviolet (UV) light projector under a light-sensitive resin pool. As the platform moves upward, the projector moves light along cross sections of the liquid polymer, solidifying it as it goes and forming objects.
The difference between CLIP and traditional SLA is that instead of a UV light or laser drawing the design on each layer of the liquid polymer pool, CLIP projects an entire cross section of the object across the pool, something akin to a slideshow that hardens the object continuously as the build platform rises. Unlike SLA methods, CLIP carefully balances the UV light with oxygen - the light cures the resin while the oxygen inhibits that reaction. This results in a far more gentle process, capable of producing "isotropic", or layerless parts, according to Phelps.