This 3D printer can rival standard manufacturing on the factory floor
It can build limited product runs of up to 45,000 units
"All other 3D printing techniques are just 2D printing over and over again -- hence, the layers and the weaker mechanical properties," Phelps said, referring to the layer-by-layer additive-manufacturing process. " CLIP's process is completely continuous, meaning there are no layers -- growing parts rather than printing them layer by layer."
While traditional approaches to additive manufacturing (3D printing), such as fused filament fabrication (FFF) or selective laser sintering (SLS), make trade-offs between surface finish and mechanical properties, the M1 produces high-resolution parts with engineering-grade mechanical properties and surface finish, the company claims.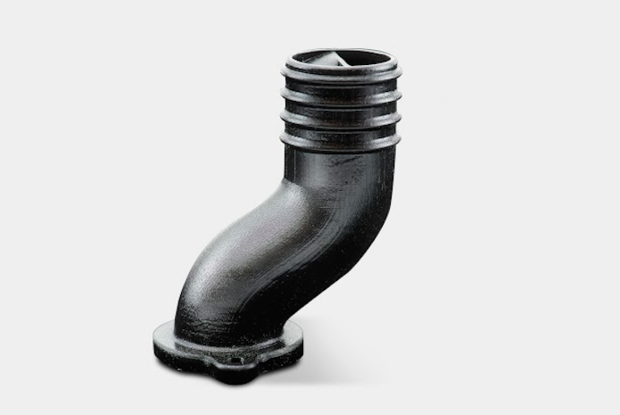 Carbon A pipe printed with Carbon's M1 3D printer.
"This product lays the groundwork for addressing major gaps in additive manufacturing as we work with our customers to continually innovate and push the boundaries of product design and production," Carbon CEO Joseph DeSimone said in a statement.
Phelps compared the M1's production quality to that of injection molding or urethane casting, where molten metal or liquid resin is poured into a cast where it hardens.
Carbon offers seven resins from which the M1 can print objects; the resins range from rigid and semi-rigid materials to high-temperature resistant resins and rubbery plastics that meet the specifications for commercial running shoes.

Carbon A 3D-printed turbine.
For example, Carbon's Cyanate Ester-based resin is a high-performance material with heat deflection up to 219 degrees Celsius (426 degrees Fahrenheit). The Cyanate Ester resin is designed for automotive under-the-hood applications, such as ducting, electronics and other industrial components.
Carbon has been working with beta customers in industries such as auto, aerospace, medical and athletic apparel, including a number of Fortune 500 companies. BMW, for example, uses the M1 3D printer to make the name badges on some of its models, which were formerly produced using injection molded thermoplastic.
Ford has also tested Carbon's M1 for printing engine duct work, Phelps said.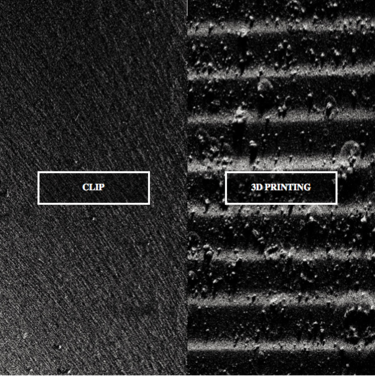 Carbon
The difference between Continuous Liquid Interface Production (CLIP) and traditional stereolithography 3D printing is that instead of a UV light or laser drawing the design on each layer of the liquid polymer pool, CLIP projects an entire cross section of the object across the pool.
"With our technology, because we have this incredibly high functional, high temperature material, they're really excited to be printing ducting that performs just like the injection-molded duct," Phelps said.
The M1 is being used to shorten product development cycles, address new lightweight, high-strength geometries, and produce customized medical devices, Carbon said.
"The medical device community is using that material in sterilizable applications," Phelps continued. "I'm not aware of any 3D printer in the world -- SLS included -- that can do something like that."