Toshiba Satellite P50t-BST2N01: The first laptop to boast a 4K display
Toshiba's Satellite P50t boasts two important firsts: It's the first laptop to feature a 4K display, and it's the first to be Technicolor Color Certified. You likely have at least a passing familiarity with 4K video, but I would argue that the latter claim to fame--which you might never have heard of--deserves more praise.
As Technicolor VP, Technology Licensing Ed Thompson explained in a recent briefing: "The benefit to the consumer is to provide an accurate color experience. The real goal of the program is to match the color format of the content to the display capability of the monitor." Technicolor partnered with software developer Portrait Displays to achieve this goal. Portrait's software talks to the computer's graphics and display hardware to automatically control color settings and adjust color gamut. But you can't simply install the software to get Technicolor certification. Representative samples of the LCD panels each OEM decides to use are calibrated at the factory, and the data needed to tune that panel to comply with the spec is loaded into the software that's delivered to the OEM.
You're not limited to using the Technicolor color space. Using Portrait Displays' Chroma Tune app, you can switch between Technicolor and a "cool" color space for working with productivity apps, for instance. Chroma Tune also has a "warm" color space, one that fits the Rec. 709 standard developed for HDTV), and "full" color space. You can also assign color spaces to particular applications, so that your computer automatically switches to the desired color space when you launch a given program.
Put these two technologies together and you get an absolutely gorgeous display. The 4K demo footage Toshiba preloaded on the machine looks amazing, as do games--when you turn the resolution down to 1920x1080 to get a playable frame rate, that is. At that res, the P50t delivered BioShock Infinite at 37.4 frames per second. There's just one major shortcoming: Glare. There are times when the Satellite P50t's screen looks like a 15.6-inch mirror. The problem is particularly acute with nighttime scenes. This is a common shortcoming with color touchscreens, but it's one you should be aware of.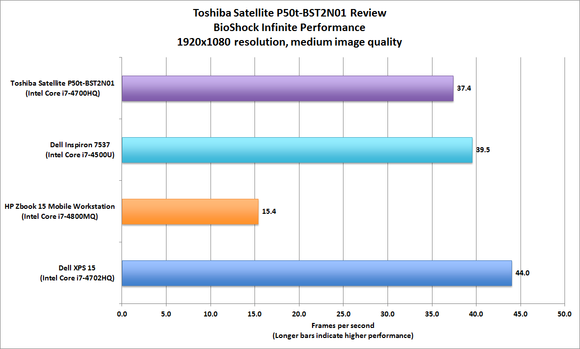 Games look great on the Satellite P50t's display, but don't try playing AAA titles at its native resolution
Toshiba stubbornly insists on providing only HDMI video outputs on its laptops, which leads to another shortcoming. Should you decide to connect the P50t to an external 4K monitor, you'll be limited to a maximum refresh rate of 30Hz. That's not a big problem if you're going to watch a movie in your home theater, but your eyes will dry up and fall out if you spend much time trying to edit photos or video at an external 4K monitor's maximum resolution. Had Toshiba's engineers used DisplayPort or even HDMI 2.0, this wouldn't be a problem as both those standards can deliver 4K video at 60Hz refresh rates.