Toshiba Satellite Radius: A big laptop with a really big, limber display
If you really, really want a 15.6-inch laptop that can transform into a 15.6-inch tablet, Toshiba has a solution for you.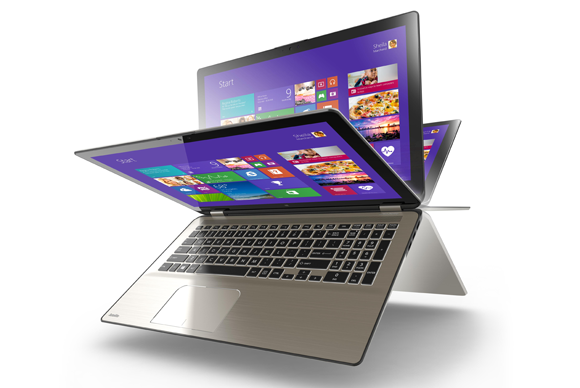 Why have a touchscreen laptop and a separate tablet when you can have a touchscreen laptop and a tablet in one? Yes, the $1000 Toshiba Satellite Radius is another Yoga clone. A really, really big Yoga clone.
Toshiba prefers to describe the Radius as a "premium multimode laptop," which means that its screen rotates 360 degrees around its hinge. That enables the machine to operate in several different viewing modes, including tablet. The question is, does anyone really want a 15.6-inch tablet that weighs nearly five pounds?
Despite the bulk, the Radius's screen feels a little flimsy when you twist it around into tablet mode. The ultra-thin lid feels like it will break if you spend too much time playing with it. The screen also doesn't lie completely flat in tablet mode.
Aside from those shortcomings, the Radius is a well-designed laptop with a brushed-aluminum cover and keyboard deck, and an edge-to-edge glass touchscreen. It looks more expensive than it is.
The size of the screen enabled Toshiba to provide a full-sized keyboard on the deck, complete with a 10-key numeric keypad and a large multi-touch trackpad with integrated buttons.
The keyboard and the trackpad are good. The keyboard's island-style keys are a little on the small, slippery side, but I still managed to hit 93 words per minute in my typing tests. I typically type 115wpm on a desktop keyboard, so this keyboard is pretty usable. The Function keys (which operate as media keys first and Fn keys second) are absolutely tiny. This will annoy frequent Fn key users.
The model Toshiba sent for this review sports an Intel Core i7-4510U processor, 8GB of DDR3L/1600 memory, and a 1TB hard drive spinning at 5400rpm. It relies on integrated graphics, but it's relatively well connected with 802.11ac Wi-Fi and Bluetooth support. Three USB 3.0 ports, an SD card reader, a combination headphone/microphone jack, and an HDMI out port round out the I/O options.
There's a power button and volume rocker on the side, so you can access volume controls while you're using the laptop in a non-laptop mode. A touch-sensitive Windows logo beneath the display brings up the Windows 8 start screen without your needing to touch the keyboard. That's a nice touch when it's operating in tablet or tent modes.
Performance
Benchmark results were middling, with a Laptop WorldBench 9 score of 58. That means it's 42 percent slower than our reference model, a Dell XPS 15 with a faster CPU, a discrete graphics processor, and 16GB of memory. Dell's Inspiron 15 5000-series delivered roughly the same performance, but we found it even less sturdy than Toshiba's machine--and we liked Toshiba's keyboard and trackpad a whole lot better. The battery inside the Radius lasted 106 minutes longer than the one in the Dell, too.