Weekend Project! Install the Windows 8.1 preview
If the Fourth of July's heat is too much, why not sit inside and install Windows 8.1 while you kick back with a refreshing beverage?
It's scorching out. Any housework that needs doing is already done. And with the long weekend ahead, it's time for a simple computing project. Here's one: Install the Windows 8.1 preview.
Last week, Microsoft unveiled Windows 8.1, the next iteration of its Windows 8 operating system. From a marketing standpoint, Windows 8.1 is a do-over, a bid to simplify and personalize an operating system that, quite frankly, turned off a lot of people. If you own Windows 8 and dislike it, we encourage you to follow along and consider giving Windows 8.1 a try. Not only does it have features designed to make Windows 8.1 a friendlier experience, but it has tons—yes, tons—of new features.
Note that, eventually, Windows 8.1 will be available to you, for free, when the software is released to "general availability," most likely this fall. What Microsoft released last week is a preview, and so it may contain a bug or two. If you have any critical apps or data, make sure that you have backup copies, or that your data is also stored within Microsoft's SkyDrive. Though I haven't encountered a single bug in Windows 8.1, there's no guarantee that you'll have the same experience.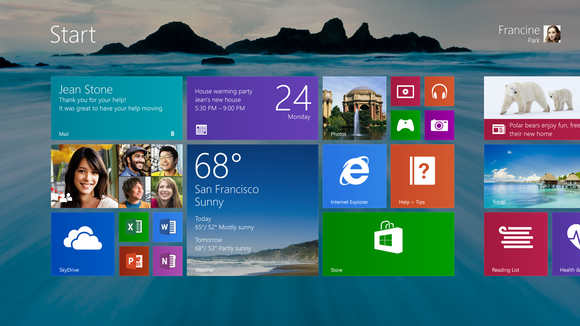 MICROSOFT. A prettier Start page. We think it makes a difference.
If you do run into problems, try visiting the Microsoft Windows 8 Preview forums. You'll find answers to specific questions that this guide can't cover, including the most frustrating error message, "Windows 8.1 Preview is not yet supported on this PC." (Have you already seen this message? According to Microsoft, your PC might be running a 32-bit Intel Atom chip that's currently unsupported.)
What to know before you start
Before you download and install Windows 8.1, consider where you'll be running it. Is it on your main productivity machine? A spare PC? Or even within a virtual machine? Since you'll be installing a preview version of the operating system, we recommend digging up a spare PC and installing 8.1 on top of an existing Windows 8 installation.
Installing the Windows 8.1 preview is essentially a one-way trip: Once the software is installed, there's no going back. (And be aware that if you begin installation and then get cold feet in the middle, you'll also have to uninstall the associated Windows Update; open the Control Panel, look for "View installed updates," and delete KB2849636.)
If decide you really can't stand Windows 8.1 after it's already installed, the only way out is to restore your PC to its original factory settings, using the recovery media that came with your PC or a backup. Windows 8 users may also be able to restore their PC by performing a refresh. There's bad news for Windows RT users, however: Microsoft says there's no way back. At all.