Weekend Project! Install the Windows 8.1 preview
If the Fourth of July's heat is too much, why not sit inside and install Windows 8.1 while you kick back with a refreshing beverage?
If you need some assistance with installing Windows 8.1 within a virtual machine, try the TechNorms guide and this related discussion forum.
If you do download the ISO, you'll also need this Microsoft product key:
NTTX3-RV7VB-T7X7F-WQYYY-9Y92F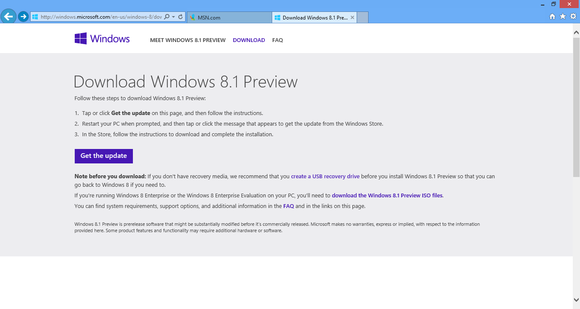 8.1's system requirements mirror those of current Windows 8 products. You'll need a 1GHz or faster processor, and a DirectX 9 GPU with WDDM driver. A 32-bit system will need 1GB of RAM and 16GB of storage space, while 64-bit systems will need 2GB of RAM and 20GB of storage space. For the Windows RT 8.1 Preview, you'll need a device that's already running Windows RT and also has 10GB of free storage space, Microsoft says.
Once Windows begins its installation, your PC may reboot a few times while the process completes itself.
A quick tour of Windows 8.1
Once the installation completes, congratulations! You're well on your way to enjoying Windows 8.1. After signing in with your Microsoft ID, you'll see the familar Start screen. At this point, you'll want to explore the best of what Windows 8.1 has to offer. Fortunately, Brad Chacos has compiled the five reasons you'll want to upgrade to Windows 8.1.
Slide in from the right, and access the Settings charm. Now click the Personalize tab. Take a quick spin through the background options. Now click the back arrow, and then go down to "Change PC Settings" at the bottom.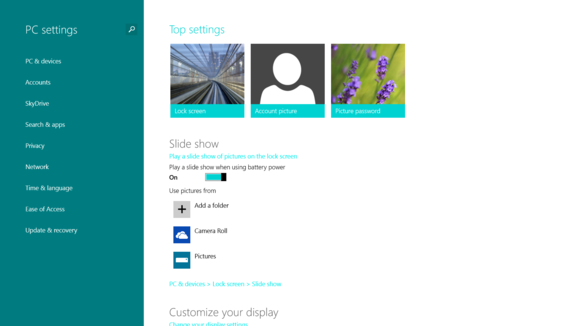 The PC Settings screen of Windows 8.1, where some personalization options live.
In the PC Settings "Top Settings," make sure that the "Slide Show" toggle is turned on. This turns your Windows 8.1 PC into a picture frame when the lock screen is enabled. You can select pictures from the Camera Roll and even SkyDrive-although I've had some problems getting this to work correctly with SkyDrive. Photos uploaded via Windows Phone to SkyDrive seem to offer the best chance of working correctly. Other new features include "Corners and Edges," where you can turn off the "hot corners" that trigger the charms, if that kind of thing annoys you.
Back to the Start page. Now start typing the name of your favorite band. The Search charm should automatically open. If your band is reasonably popular, not only should you see it pop up in the new "Everywhere" results under Search, but after clicking on the name you should see a "hero" page with a discography, biographical information, and more. What's interesting here is that Microsoft's Search, powered by Bing, doesn't auto-create a "station" of random music. Instead, you can pick and choose which songs to listen to.
Previous Page 1 2 3 4 Next Page