Weekend Project! Install the Windows 8.1 preview
If the Fourth of July's heat is too much, why not sit inside and install Windows 8.1 while you kick back with a refreshing beverage?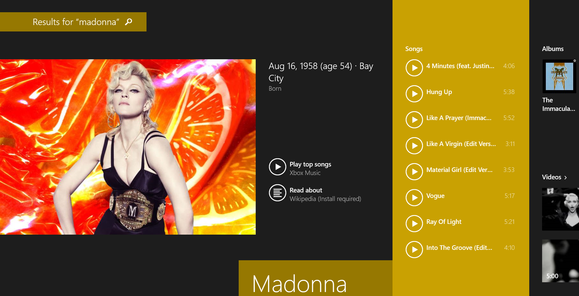 One of the new "hero" pages within Windows 8.1's Smart Search.
Unfortunately, if you go back to the Start page and type "AAA," you'll probably see an ad.
Go back one more time to the Start screen and click through to the desktop. Note the new "faux" Start button. Click it-whoops, you're back on the Start page! Hit the Windows key to return to the desktop. From there, right-click the taskbar at the bottom of the screen, select Properties, and Navigation.
For me, this is the Windows 8.1 equivalent of the hidden screen in the Atari 2600 "Adventure" game. From here, you can select options to boot to the desktop, rearrange the Apps screen, and show the desktop background on the Start page, if you so wish. This doesn't add any functionality, per se, but certainly should make you feel right at home.
Finally, there are the apps. Most if not all of the standard Windows 8 apps have either been retooled or augmented to make them consistent with Windows 8.1. If you'd like an in-depth look at the new Windows 8.1 apps, Jared Newman has you covered, from Alarm to Reading List. And don't forget Internet Explorer 11 and SkyDrive, both of which have been beefed up for the new release, with both performance and feature enhancements.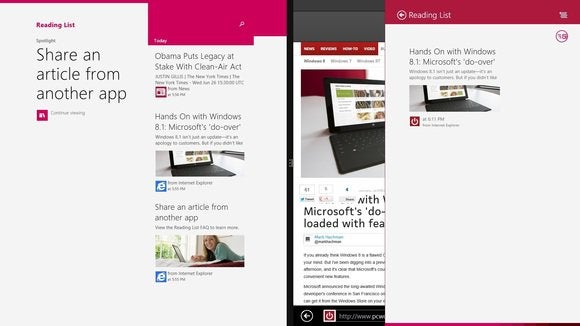 J
ARED NEWMAN. Windows 8.1's "Readling List" app.
One more note: So far, Stardock and some of the other developers who've designed custom solutions to "bring back" the Start menu and other legacy functionality haven't said what their plans are for the future, or even if the software will work with Windows 8. But Microsoft clearly hopes that its new improvements will make you forget about the competition. That doesn't mean that there aren't a few things we hope to see in Windows 8.2, too.
Previous Page 1 2 3 4