What we do (and don't) know about the new Xbox
Rumors are swirling ahead of Microsoft's May 21 unveiling of the next Xbox. Here's what we know now, and what we expect to learn.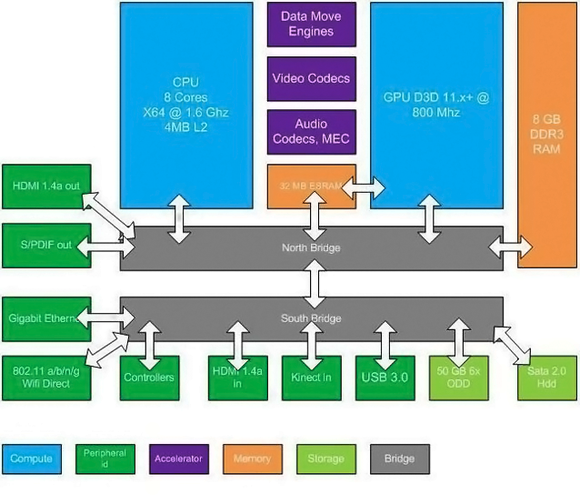 A popular rumored block diagram of the next-gen Xbox architecture.
The rumors specs are as follows:
An 8-core x86 CPU made by AMD, based on the "Jaguar" core. (very simlar to the PS4's CPU)
An AMD graphics processor based on the Radeon 7000 series, with 12 shader cores (similar to the PS4's GPU, only the PS4 has 16 cores)
8GB of DDR3 memory (the PS4 also has 8GB of RAM, but it's faster GDDR5 memory)
32MB of very fast embedded SRAM
A hard drive in every box (of unspecified size)
A fast Blu-ray drive
Built-in Wi-Fi
Dedicated hardware for encryption, audio and video compression, and processing Kinect input
This all seems perfectly reasonable and roughly in line with the Playstation 4. Calm down, Sony fan, I said "roughly." If these are Microsoft's specs, the PS4 will be a little more powerful, but not so much as to make a major difference in what you play. Consider that the PS3 is certainly more powerful than the Xbox 360, and on the whole the best games between the two platforms are roughly comparable in technival "gee whiz" factor. The original Xbox was about 3 times as powerful as the Playstation 2, and the games only marginally more impressive.
We have no reason to believe these rumored specs are correct, other than the fact that they are never really soundly refuted, and they seem very reasonable.
Kinect for everyone
For an optional add-on coming late in the hardware cycle, Kinect has been quite successful on the Xbox 360, selling over 24 million units. This time around, we don't expect Microsoft to split its market between the Kinect haves and have-nots. Every new Xbox will come with a next-generation Kinect sensor, if the rumors are right. This new Kinect is said to have two to three times the resolution of the existing model, with a wider field of view and better low-light sensitivity so it works better in more living room configurations. A more robust dedicated processor should improve accuracy and responsiveness, too.


Kinect was a hit for Microsoft, even though core gamers never fell in love with it.
This seems like a no-brainer. Kinect is a differentiator that competitors haven't been able to match, and while the hardcore gamers haven't embraced it, the best way to ensure that developers make good use of it is to guarantee that every gamer has one. Then, developers can put serious time and effort behind Kinect features without worrying that only a fraction of the players can use them.
A slightly tweaked controller
The Xbox 360 controller's shape and layout is beloved by gamers, and often imitated. Early rumors that the controller would have a touchscreen built in (not unlike the Wii U's gamepad) seem mostly to come from the fevered dreams of fans that can't stand their favorite system not having something other systems have. A controller with a screen in it would be a terrible idea. Microsoft's second-screen strategy revolves around SmartGlass, and adding a touchscreen to controllers will ramp up the cost, which is already sure to be high thanks to sophisticated hardware and built-in Kinect. Not to mention what it would do to battery life.
Previous Page 1 2 3 4 5 6 Next Page