White House releases report on how to spur smart-gun tech
A proposed rule will help ensure appropriate information is reported about individuals prohibited from buying a gun for mental health reasons
The White House last Friday released a report by the Defense, Justice and Homeland Security departments on ways to spur the development of smart-gun technology, which restricts who can fire a weapon.
Smart-gun technology typically uses RFID chips or biometric ID systems, such as a fingerprint scanners or grip recognition systems, to release a locking mechanism on a weapon. The technology was initially developed to prevent police officers' weapons from being grabbed in struggles and used against them. The military has also expressed interest in the technology for similar reasons.
For two decades, smart-gun technology has advanced in fits and starts as wary investors kept purse strings tight and gun rights proponents at times fought its uptake.
Then, in January, President Obama directed the federal government to conduct or sponsor research on gun safety technology, and to investigate ways to promote it.
"If we can set it up so you can't unlock your phone unless you've got the right fingerprint, why can't we do the same thing for our guns? If a child can't open a bottle of aspirin, we should make sure that they can't pull a trigger on a gun," Obama said in January.
Obama also instructed various defense and law enforcement agencies to "review the availability of smart-gun technology on a regular basis, and to explore potential ways to further its use and development to more broadly improve gun safety."
He also commissioned a study by various defense and law enforcement agencies on the state of the technology.
The new research, Report to the President Outlining a Strategy to Expedite Deployment of Gun Safety Technology, states that smart-gun technology "holds great promise."
"By incorporating electronic systems into a firearm's design, manufacturers can give gun owners greater control over how a weapon is used, both by limiting who can fire the gun ('user-authorization technology') and by making a gun easier to retrieve if it is lost or stolen ('electronic recovery technology')," the report states.
Additionally, the DOJ and DHS have begun a process to define, for the first time, the requirements that manufacturers would need to meet for federal, state and municipal law enforcement agencies to consider purchasing firearms with enhanced safety technology. They've committed to completing that process by October, and will also identify agencies interested in taking part in a pilot program to develop the technology.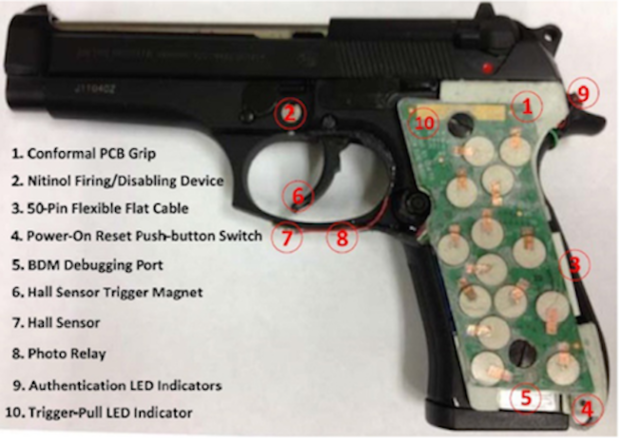 A 9mm Beretta semi-automatic pistol was the initial prototype for the New Jersey Institute of Technology's smart gun, which uses sensors to detect each gun owner's unique grip. Credit: NJIT
The report also says that local and state governments can, through the DOJ, apply certain federal grants to the purchase of new firearms, including those equipped with advanced safety technology.