Why Apple included Maps in Mavericks
Maps on Mavericks may not seem necessary but based on the way it channels location data to other applications, and considering the things that kind of location data allows those other apps to do, we're just starting to see some of the intriguing possibilities.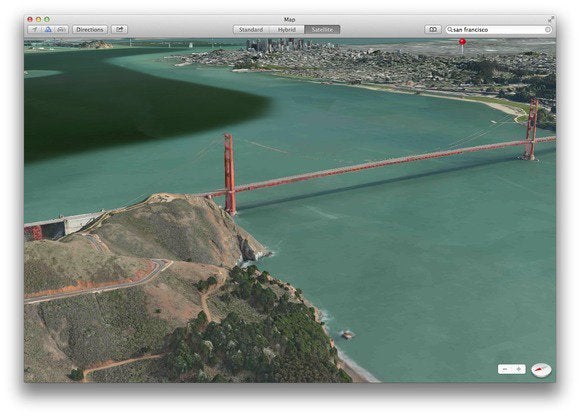 When Apple released Mavericks, some people were puzzled by the inclusion of the Maps application. After all, it's easy to understand the value of having an interactive map on a mobile device: You always want to know where you are when you're on the go. But given that our computers already have access to perhaps the best mapping service (and mapping data) on the planet--in the form of Google Maps running in a Web browser--what's the point of Maps on the Mac? I can think of several reasons.
Integration
The Maps application is the tip of what may be a far more important iceberg: integration. Map data is about more than simply providing pretty pictures in a single application. It's also a way of providing location information in other apps.
When you create an event and add a location in the latest version of Calendar, for example, that app will automatically search for said location; if it finds it, it will display a small map at the bottom of the event's Edit window, with a red pin marking the spot and the current weather there. If you click in the Add Alert, Repeat, or Travel Time area and then click on the Travel Time entry, Calendar displays the time it'll take to travel to your destination--all using information supplied by Mavericks's built-in maps technology.
You can also select an event that has a location attached to it, press Command-I to bring up the Info window, Control-click (right-click) on the address, and choose Show Address from the contextual menu that appears. A small map appears that details that location. From within this map you can choose to view this location in the Maps app, click a button to view directions to this location within Maps, create a contact based on this address, or add it to an existing contact.
Safari offers a similar feature: Select an address on a webpage, Control-click (right-click) on it, and choose Look Up [nameofaddress], and that same small map appears with the same options.
Ditto in Contacts: When you hover your cursor over a street address, a gray Show Map link appears. Click that link, and Maps launches and drops a pin on the location.
These are just the Maps-powered features that Apple has added to its own apps. Maps (and its data) is open to third-parties. Any application--including those that deal in reminders, appointments, scheduling, local shopping and services, social media, and, of course, navigation--could put this information to good use.
Sharing
Maps also provides you with plenty of ways to share maps. In the Maps toolbar, click on the Share icon and you'll spy any iOS devices running iOS 7 that are associated with your Apple ID. Choose one, and the Maps data you're currently viewing--a location or a set of directions--is sent to that device, where it appears as a notification. Tap that notification, and the mobile version of Maps opens on the device and displays the information.