Why Apple's new streaming service could revolutionise the music industry -- again
At WWDC Apple will unveil its new music service, which combines on-demand streaming, Internet radio and celebrity DJ's to try and lure iTunes' 800 million users into paying US$10 a month.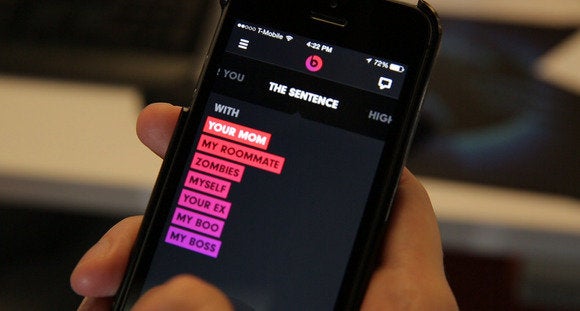 Steve Jobs didn't believe music fans would ever pay to "subscribe" to streaming music. The times they are a-changin' in Cupertino.
At WWDC next week, Apple will finally unveil its new music service, a revamped version of Beats Music, combining a $10-a-month on-demand streaming subscription with a bevy of free, ad-supported radio stations curated by celebrity DJs. The new music service will pit Apple against streaming services like Spotify, Rdio, and Tidal, as well as with Internet radio platforms like Pandora and Google-owned Songza.
Apple first revolutionized the way we listen to music over a decade ago with the introduction of the iPod and the iTunes Store. But since then, music downloads have been losing traction (and revenue) to newer ways of music consumption, mainly streaming and Internet radio. Data compiled by Nielsen SoundScan showed that in 2014, download sales revenue fell by 8 percent ($3.6 billion), while streaming service revenue surged by 45 percent ($1.6 billion). According to the Wall Street Journal, Apple, still the largest music retailer in the world, is ready to cannibalize its own iTunes download sales in favor of getting its 800 million iTunes users with stored credit card information to sign up for its upgraded Beats Music streaming service.
Apple could possibly promote its revamped Beats Music with a free trial, and it will allow record labels to make select songs available for free listening--much like YouTube and Soundcloud do now--to help launch new artists or tease upcoming albums.
Why it matters: Apple's success in music streaming not only will justify the company's $3 billion acquisition of Beats last year, but it could also signal a turning point in the music industry. While artists and record labels have been weary of streaming as a sustainable business model, the fact that Apple accounts for 80 percent of music sales around the world could be the player needed to make streaming profitable.
Watershed moment for music streaming
Even though record labels have been strong-arming negotiations with Apple to secure the prerequesite licensing rights to their full catalogues, the WSJ reports that the music industry has faith that Apple's new service will be a "watershed moment" for streaming to become a mass product adopted by the mainstream.
In 1999, when recorded music sales were at an all-time high, music consumers spent an average of $64 a year on CDs. Today the iTunes Store's 110 million customers spend an average of about $30 a year on downloads.
Apple's monthly streaming service would increase that annual spend to $120 per consumer, even higher than it was during peak CD sales, but the model requires a larger userbase. By comparison, Spotify boasts 60 million active users, but only 15 million currently pay for a subscription.