Why Windows RT is crucial for Microsoft despite sagging sales
Don't shed a tear for Windows RT, the neutered operating system cursed to be the red-headed stepchild of the Windows family (to Windows Phone's great relief). While the OS's rocky birth has since led to an even rockier childhood, its very existence is a clever ploy for the future by Microsoft--even though you can't give Windows RT tablets away today.
That's crucial. As modern apps become available, they'll be able to run on a much more varied array of hardware, especially as Microsoft ties Windows proper ever closer to the rest of its ecosystem.
Not only does that mean more choice for consumers in the long run, it also means more flexibility for Microsoft. As such longstanding partners of the company as Intel and AMD flirt with Android, Windows RT and the modern UI's underlying WinRT application architecture help Microsoft build for a future with open options.
Therein lies the genius of Microsoft's Trojan horse. Every copy of Windows 8 sold includes that somewhat tacked-on modern interface. The more Windows 8 users there are, the more likely developers are to stuff the Windows Store with apps--and since the Windows Store (mostly) features WinRT apps rather than classic x86-based programs, Windows RT becomes stronger over time even if no one buys the tablets today.
"Over the long term, I think within three years we'll most likely see a full catalog of Metro-based Windows applications," says Moorhead.
Like I said: Genius. And Microsoft is pushing the Windows Store hard.
At Build, Microsoft announced modern versions of big-name apps like Facebook, Flipboard, and Foursquare for Windows. And while Windows RT specifically wasn't on show at Microsoft's Build keynote, a key cornerstone of its future was, in the form of an alpha build of modern-style Office apps.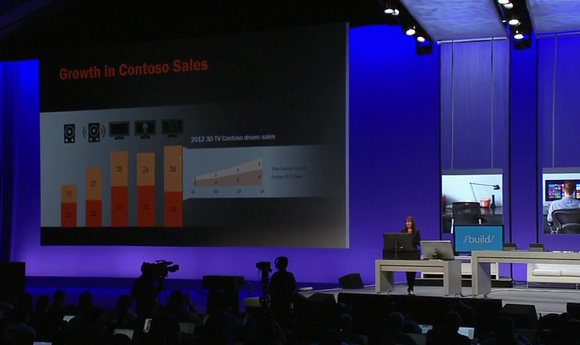 Windows co-chief Julie Larson-Green showing off modern PowerPoint at the Build 2013 keynote.
"Microsoft announcing Metro Office, or at least showing PowerPoint for Windows RT in the modern UI, is--to me--the absolute message that Metro is the future, and the desktop is the past [for Microsoft]," says Moorhead. "While I think that Microsoft may have said that previously, their actions speak a lot louder than their words. In a way, Microsoft was hedging their bets with the desktop. But them doing Office in Metro speaks volumes."
Onward and touchward
The death of the desktop isn't imminent, but it's not hard to see its ending writ large in Microsoft's actions.
The Windows 8.1 update makes several concessions to desktop diehards--but more important for Windows RT, Windows 8.1 nips and tucks several of the more unsightly seams left showing in the original Windows 8 release, making the modern UI much more palatable. Is it perfect? Nope. But Windows 8.1 has some compelling features that advance the modern vision and simplify navigating the modern side of the OS, with fewer startling plunges into the desktop.
Microsoft is in it for the long haul with Windows 8 and the modern UI. Windows RT's own star will shine more brightly as that duo ascends. In the meantime, Windows RT's mere existence spurs traditional Windows laptops and hybrids toward longer-lasting charges and better cross-platform compatibility. Not bad for a platform that should, by most measures, be languishing on the vine.
In fact, its future boils down to a simple war of wills: Can Microsoft's stubborn modern focus outlast consumer demand for the desktop? Only time can answer that question.
Previous Page 1 2 3