Why you should be (very) wary of Windows 10 if you own an older PC
Despite Microsoft's massive Windows 10 advertising blitz, many older PCs do not support the new OS, and it can be absurdly difficult to determine if your system is supported.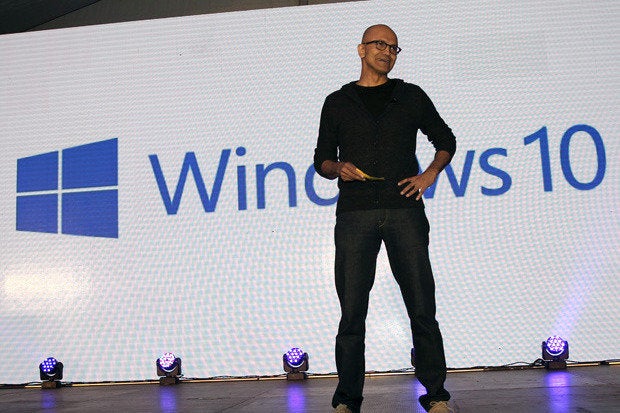 Microsoft CEO Satya Nadella addresses delegates during the launch of the Windows 10 operating system, July 29, 2015. Credit: REUTERS/Thomas Mukoya
I love my Windows 7 laptop, but I've had it for more than 3 years and the inevitable is happening: The OS is getting cranky, the result of adding and deleting dozens of programs — and, of course, I'm waging the occasional war with malware. The hardware is in good shape, though. Microsoft's free Windows 10 upgrade offer seemed like might solve my problems, so I don't have to buy an expensive new system or reinstall Windows 7, a painful and time-consuming task.
For many PC users, particularly those whose systems run Windows 8 and 8.1, the upgrade is a good solution. For users with systems that are 3 or 4 years old, however, the upgrade process is problematic, confusing, and in some cases, may not even be possible. It's a serious problem, because trying to install Windows 10 on a PC that doesn't support the OS is an invitation to disaster. At the very least, you'll waste a lot of time.
Older drivers can cause Windows 10 update problems
The real issue is that it's not always easy to determine if your older system can handle the upgrade. If you're running Windows 7 or later, chances are good that the hardware is capable of running the new OS. Unfortunately, that's a necessary — but not at all sufficient — condition. Although users rarely need to think about PC drivers, or small programs that help system components work with the OS, the apps need to be compatible with the system.
All versions of Windows contain some generic drivers, but most of them are created by hardware makers. In many cases, the drivers in newer PCs work well with Windows 10, but drivers for older systems need to rewritten.
I contacted a few of the major PC manufactures and found that some have Web pages that list what they call "supported systems." Unfortunately, they're not easy to find. Lenovo, Dell, Acer, and Toshiba all offer supported systems pages, and both HP and Asus have pages that let you check support for specific computers.
What exactly is "supported?" In most cases, it means the manufacturer wrote the necessary drivers or has tested the system, including its Basic Input Output System (BIOS), and determined that it can run Windows 10. That's pretty straight forward.
However, it's less clear what to do if your PC is not on one of those lists. In some cases, systems will run Windows 10 even though the manufacturers haven't written drivers or tested them. In other cases, they won't.