Windows 10 powers up PC gaming with DirectX 12, native DVR, deep Xbox integration
The walls are being torn down between PC gamers and Xbox gamers.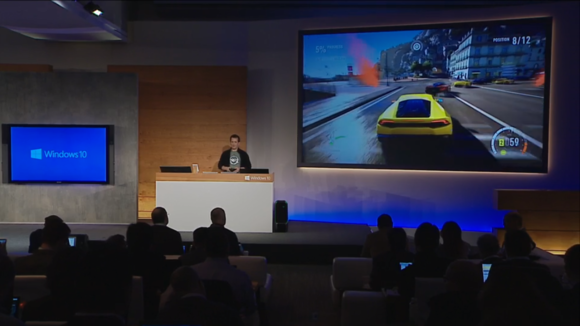 The artificial wall between Xbox players and PC gamers will get torn down with Microsoft's upcoming Windows 10, which allows streaming of Xbox One games to PCs and even lets gamers on the two disparate platforms play together.
The announcement was one of several made by Microsoft to show the company's commitment to PC gamers.
"We will treat gaming on Windows 10 with as much passion and energy as we have on the Xbox One," said Phil Spencer, the Xbox One division chief Phil Spencer.
In addition to streaming games long confined to the Xbox One, Spencer showed off DirectX 12 on Windows 10 and announced a new game DVR feature that will be built into the new OS as well.
DX12 to cut power
DirectX 12 has long been expected as part of the new OS, and Spencer showed off how effective the API will be by showing an upcoming Futuremark demo. The demo ran DirectX11 on one side, eventually bogging down to zero frames per second while the DirectX12 demo continued to zip along as more and more objects were added to the screen.
One surprising bit of news about DirectX 12 is its apparent power savings. Spencer said a game running on DirectX 12 would cut power consumption in half over DirectX 11. Microsoft said the savings would help tablet and phone gaming, but such drastic power savings, if true, should also improve gaming on a laptop.
Spencer's real surprise, however, is Microsoft's intention to allow PC gamers and Xbox One gamers to play together in certain games that support the feature. A few past cross-over attempts with PC and Xbox players never ended well, so here's hoping.
Spencer has actually long hinted at some cross-over potential. In an interview with Ausgamers.com in late 2013, he said Xbox and PC gamers in the same game "makes a lot of sense."
The first game to allow the cross-platform play will be Fable Legends later this year.
Dan Stapleton, a longtime games journalist and an executive editor at gaming web site IGN.com, said much of Microsoft's announcements concerning Xbox and PC gaming seemed to help the Xbox One more than PC gaming.
"Streaming games to your PC does make sense if you don't already have a capable gaming PC," explained Stapleton. "Much like the Wii U allows you to stream your games to your GamePad, or the PlayStation 4 allows you to stream games to your Vita while someone else uses the TV, Xbox One will now let you do that with a relatively low-powered PC, like a Surface," he said.