Windows 10 superguide: Everything you need to know
Learn all about Windows 10's free upgrade, killer new features, and availability.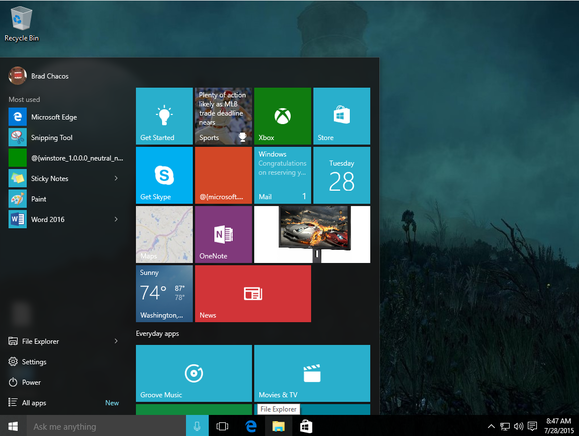 After months of teasing, testing, and technical previews, Windows 10 is finally here, and it's one of the best operating systems Microsoft's ever released. Windows 10 weaves together the best parts of Windows 7 and Windows 8, adds a dash of compelling features, then gives it all away for free to current Windows 7 and 8 users.
And yes, the Start menu is back.
First things first: Read PCWorld's comprehensive review of Windows 10 for a detailed, no-nonsense look at every corner of the new operating system. There's a lot to cover! But if you're short on time, bookmark our review, then check out PCWorld's clear answer to your simple question: Should you upgrade to Windows 10?
If you decide to take the plunge, be sure to read Ian Paul's three tips for a hassle-free Windows 10 upgrade beforehand--it'll save you some headache.
Windows 10 rolled out to more than 14 million PCs in its first day or so of availability, and while there were some bumps, things went pretty smoothly overall. It even runs on old XP- and Vista-era machines!
Microsoft's still slowly pushing out upgrades to users who "reserved" Windows 10 as part of a staggered launch, and it may take weeks to plow through the queue, but fear not: You can use the Windows 10 media creation tool to install Windows 10 right now if Microsoft's moving too slowly for your tastes. The same tool can be used to create Windows 10 ISO images, though you'll want to formally upgrade-in-place before you try a clean install, lest there be activation woes.
If you want a brand-new computer to go with the brand-new OS, Dell and HP are shipping Windows 10 PCs right now. Acer and Lenovo are accepting preorders, but they don't plan to ship until later in August.
What to do with Windows 10
So you've got Windows 10 up and running. Now what?
Let Mark Hachman show you how to maximize your first 30 minutes with Windows 10 and make the operating system your own. Once you're done, these are the best new Windows 10 features you'll want to try first.
With the basics under your belt, it's time to go even further. PCWorld's video of five must-know Windows 10 tweaks will help you dip your toes into some of the operating system's deeper powers. Feel the rush--feel the power--and then dive headfirst into our mammoth list of Windows 10's best tips, tricks, and tweaks. But keep digging! Windows 10 has some pretty awesome hidden features, too.