Windows 10 tips: Your first 30 minutes with the Tech Preview
So you've downloaded Microsoft's Windows 10 Technical Preview. Let us show you around your new OS with our newbie's guide to Windows 10, complete with tips and tricks.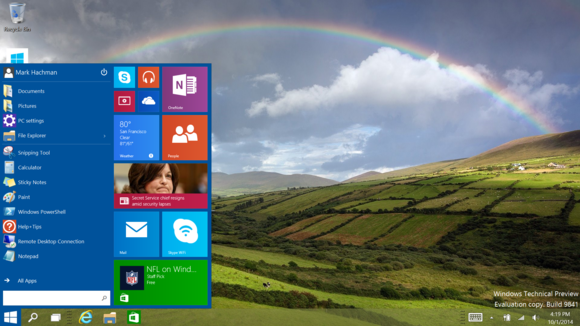 Congratulations! You've signed up for Microsoft's Windows Insider program, downloaded the Windows 10 Technical Preview ISO file, and are just about ready to install it. Consider this your orientation for your new operating system.
Brad Chacos has already outlined the steps for downloading and installing the Windows 10 Technical Preview on a virtual machine or hard drive partition. I went the simpler route: I took an older machine (a Surface 2 Pro), wiped it clean, then reinstalled and updated Windows 8 to the present.
Windows 10 installation: the final steps
If you have a spare machine lying around, updating to Windows 10 is extremely simple, especially if you have a spare 8GB USB key at the ready. As Brad recommends, back up all of your spare files (photos, documents, saved games, etc.), preferably to an external hard drive or OneDrive, just to be safe. Then jump into your Start screen and type "create a recovery drive." Click on the search result. In just a few steps, Windows will copy your PC's recovery drive to the USB key, erasing whatever was stored on the USB drive in the process. This is important, as after you upgrade to Windows 10 there's no going back.
After you've created your recovery key, make sure that the Windows 10 ISO file is copied to an external USB drive, DVD, or flash drive. From there, swipe right to access the Charms, select Settings, then Change PC Settings. Click on Update and Recovery, then Recovery. Clicking the "Restart Now" button under Advanced Startup will reboot your PC, and allow you to select the media on which you've stored the Windows 10 Technical Preview ISO file.

MARK HACHMAN. Download the Windows 10 Technical Preview ISO onto a flash drive or other external media, then use the "Advanced startup" option to restart your PC.
From there, installing the ISO should be relatively straightforward. Your PC may have to reboot several times over the next 10 minutes, but it can be left unattended. You'll know it's completed when your PC begins a Windows 8-style setup process: You'll be asked for your Microsoft account; whether you want to sync your settings with another Windows machine; whether you agree to some legalese; and to input a verification code that Microsoft will email you. After that, Windows 10 will load your applications, ask you for your username and password, and dump you unceremoniously into the Windows 10 desktop. You're done!
A couple of caveats before we continue: This build of Windows 10 will run on multiple monitors, but some of the snap features work best on a single monitor. And make sure you have a mouse--Windows 10 isn't especially touch-friendly at the present. I never had any problems inserting a mouse, but plugging in headphones generated an error message.