Windows 10's new features: Cortana on the PC, Continuum, and more
Microsoft showed off new, consumer-focused features for Windows 10.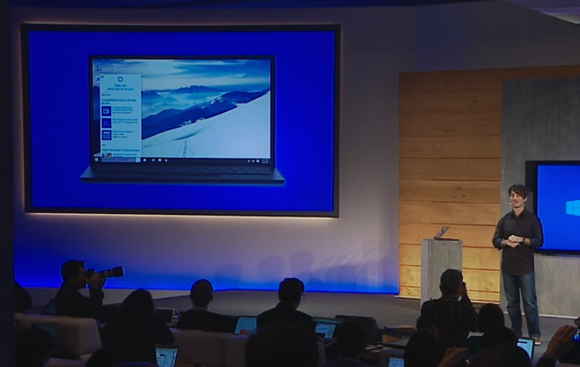 It's official, folks: Windows 10 is finally a mullet. After kicking off our original look at Windows 10 with a bevy of business-friendly features, Microsoft drew back the curtain on the operating system's new consumer-focused features at an event on Wednesday, while simultaneously driving home a vision of an operating system designed to deliver a singular, cohesive experience across a myriad of device types.
And yes, Cortana is coming to the PC.
After Microsoft operating system chief Terry Myserson announced that Windows 10 will be a free upgrade for current Windows 7 and 8 users, Microsoft's Joe Belfiore took the stage to run through some features coming to Windows 10 Preview Builds designed to make actually using the operating system smoother.
First, Belfiore showed off some helpful tweaks to Windows 10 features that have already been announced: The Start menu will be able to expand to fill the full screen if you desire, for one thing. The Action Center (read: Windows 10's notification center) is receiving improved functionality, such as Windows Phone 8.1-esque quick action buttons that let you activate features (such as Bluetooth and Wi-Fi) with a single click. Notifications in the Action Center will be able to be expanded.
More helpfully for everyday workflow, Windows 10 will condense the Control Panel and the modern UI PC Settings into a single interface, eliminating Windows 8's maddening insistence on dumping crucial system tools into two separate locations.
Microsoft also announced that its Continuum feature, which dynamically shifts the Windows 10 interface from the Modern UI to the desktop depending on whether you're using a traditional PC or a touchscreen device, will soon appear in Windows 10 Preview builds.
Cortana on a Windows 10 PC.
As anticipated, Microsoft's Cortana digital assistant will make the jump from Windows Phone to Windows 10, assuming control of many of the operating system's search features. Cortana, which will get her own place next to the Start button in the desktop taskbar, can perform many of the same basic tricks she does in Windows Phone. Cortana can be interacted with via text or natural voice queries, just like on mobile devices.
Still based off Microsoft's cloud-based Bing brains, Cortana can answer basic queries like "Will I need a coat tomorrow?" or how much it costs to attend the University of Washington, as Belfiore showed in live demonstrations. But Cortana's also been tweaked for more useful PC-like interactions. She can scour your local machine, OneDrive account, and even your business network to find files based on natural language queries. Belfiore showed off the capabilities by asking Cortana to "Find PowerPoint slides about the charity auction" and "Show me photos from December." The digital assistant surfaced the desired information nearly instantly.