Windows 8 finally passes Vista in OS market share
Microsoft's Windows 8 is now a more popular operating system than the reviled Windows Vista, eliminating a source of embarrassment as Microsoft's latest OS slowly continues to gather steam.
The bottom line? Chrome, IE, and Firefox all remain viable browser platforms, with continued improvements to each.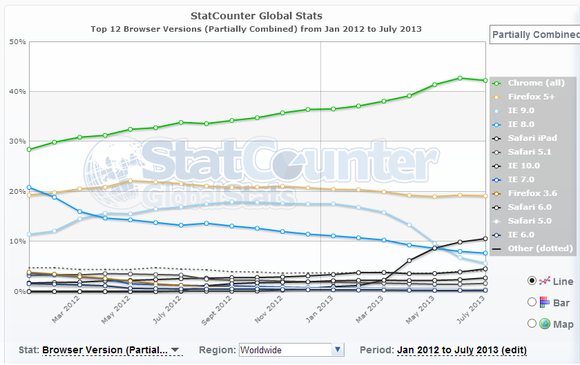 Case in point: At its recent Build 2013 conference, Microsoft announced Internet Explorer 11, which ships with the preview of Windows 8.1.
Although executives took pains to show how the new operating system is optimized for touch interfaces, it also boasts new under-the-hood improvements: up to 100 tabs, improved rendering performance, plus tabs and favorites that can be shared with other Microsoft platforms like Windows Phone. Microsoft also recently added bug bounties to ensure that IE remains secure.
Microsoft exited Build 2013 with momentum that it hasn't had in some time. The latest information suggests that consumers agree.