Windows 8.1 isn't just an OS, it's a lesson in course correction
Microsoft demonstrated a renewed willingness to listen to its customers, delivering a ton of new features. That's worth cheering for.
However, I hate it when I'm happily working within a desktop application, and then Microsoft rudely hauls me away into the modern environment, simply because I want to launch a related app. Likewise, if I'm in tablet mode, I hate trying to navigate a desktop file structure with my finger. Why does Reading List operate with the modern version of Internet Explorer, whereas I can't share anything at all from the desktop? Apple's iOS and MacOS can interact with each other, but many elements distinguish and separate the two. You can say the same for the modern and desktop elements within Windows 8, and they're the same dang operating system.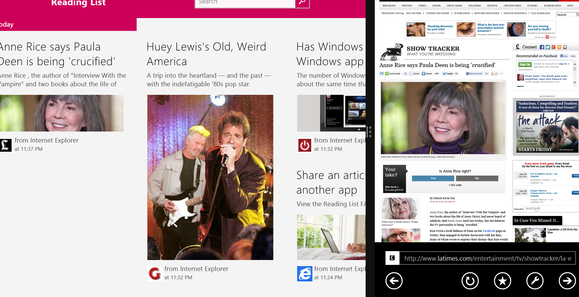 Reading List is neat, but it doesn't work with the desktop version of, well, anything.
The message: Let's Start again
Here's the message I heard from Microsoft at Build: We've listened. We've incorporated your feedback, bridged what we wanted to accomplish in Windows 8 with what you expected, and tried to bake both elements into a cohesive whole. We've sprinkled in a generous helping of new features, and we're joining the once-a-year upgrade timeline that our competitors have adopted. We're nervous, but we didn't panic. We have a vision. Trust us.
Did Microsoft deliver? Basically, yes. Microsoft is miles behind other platforms in terms of apps, both on Windows and on Windows Phone. But it still has the Web, and a compelling client with Internet Explorer and its new Visual Studio tools.
Combine that with the upcoming energy-efficient Atom platform from Intel and more small Windows tablets, and Microsoft's future looks much brighter than it looked a few months ago. Microsoft did what it had to do. Now it can only watch and wait.
Previous Page 1 2 3 4