Windows Phone 8 to land on Sprint this summer
America's third-largest carrier announced Wednesday that it will introduce two new Windows Phone handsets this summer.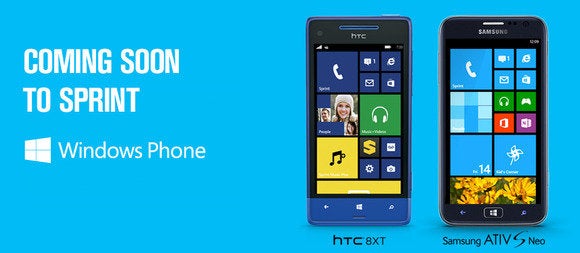 Windows Phone 8 is finally headed to Sprint, and it won't be powering a Nokia Phone.
America's third-largest carrier announced Wednesday that it will introduce two new Windows Phone handsets this summer, the HTC 8XT and the Samsung Ativ S Neo. There's no official release date yet for either phone other than a general release planned for "this summer," which means July or August.
If you want to know when the phones will be available, you can sign up to get email alerts from Sprint.
The new HTC and Samsung phones are the first Windows Phone devices to arrive on Sprint, since the carrier debuted the HTC 7 Pro (also known as the Arrive) during the Windows Phone 7 roll out in 2010. So Sprint's announcement is good news for Microsoft's smartphone platform.
Not only because Sprint is getting back into the Windows Phone game, but also because the carrier's new Microsoft-powered handsets aren't from Nokia.
The Finnish phone maker's Lumia devices were responsible for nearly 80 percent of all Windows Phone shipments worldwide during the first three months of 2013, according to market research firm IDC (Note: IDC, TechHive, and PCWorld are all owned by International Data Group).
That's due largely to a deep alliance with Microsoft and the fact that Windows Phone is almost Nokia's sole smartphone OS.
Nokia dependence
While Nokia's handsets are well liked by critics and Lumia users, Microsoft's dependence on Nokia devices has raised concerns about the long-term prospects for Windows Phone.
Two featured phones from HTC and Samsung on Sprint will hardly push Windows Phone over the top, especially as it struggles to gain popularity in North America. Nevertheless, following the HTC 8X rollout in late 2012 and the Huawei Ascend W1's limited U.S. availability, Sprint's new handsets are another small but positive development for Windows Phone.
The phones
The HTC 8XT features a 4.3-inch WVGA display, a 1.4GHz dual-core Snapdragon processor, 1GB of RAM, and 8GB onboard memory. The phone also has an SD card slot that supports up to 64GB for a total of 72GB of combined memory.
The HTC phone also features the usual smartphone offerings including Bluetooth, Wi-Fi, and GPS. The handset has an 8-megapixel rear-facing camera and a 1.6MP front-facing shooter for video chat and awkward selfies.
The 8XT also continues HTC's tradition of focusing on audio since the company's investment in Beats Audio in 2011. The 8XT will come with HTC BoomSound that features dual-front facing speakers and a dedicated amplifier. HTC's 8XT will set you back $150 upfront with a new, two-year contract.