XOEye smartglasses could be the all-work, no-play wearable that people actually use
The future of smartglasses will be realised by a factory worker operating a 3000-pound stamp press, not a gamer stomping on virtual-reality bad guys.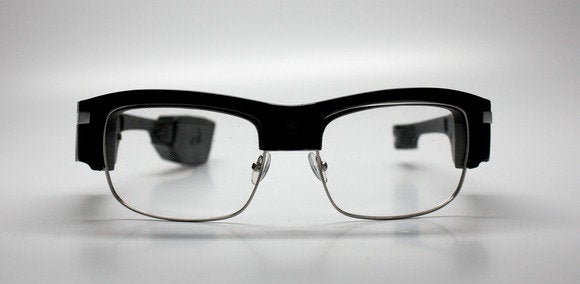 The future of smartglasses will be realised by a factory worker operating a 3000-pound stamp press, not a gamer stomping on virtual-reality bad guys. Face computers will be all about scanning bar codes on cardboard boxes, not scanning tourist attractions for augmented reality overlays.
Dig it: Smartglasses are a productivity story. They're about getting things done. This is the vision of XOEye Technologies, which this Friday will begin seeding its XOne smartglasses to some two-dozen companies in blue-collar business sectors ranging from overnight delivery to oil and gas.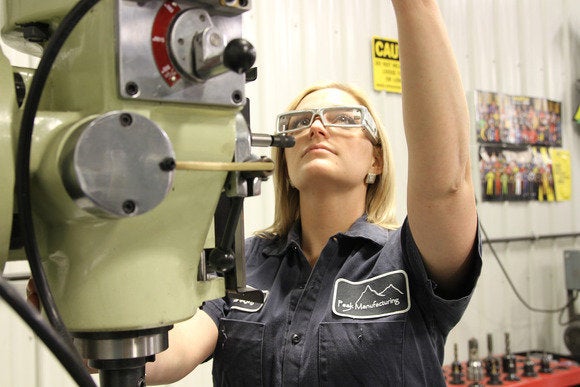 IMAGE: XOEYE. A factory worker operating heavy machinery could give her foreman a clear point-of-view video of everything she's seeing. Here we see an early XOne hardware prototype.
XOEye CEO Aaron Salow says smartglasses represent the next wave of business communication. Every 20 years, he posits, a new technological breakthrough fundamentally changes how workers communicate with each other and clients. In the 1950's, the enterprise space depended mostly on phones. Faxes made an impact in the 70's, and email changed everything in the 90's.
Next up: "activity streams." Smartglasses like the XOne will share streams of data--audio, video and even rarefied sensor information--to connect workers with colleagues in unprecedented and liberating ways. Or so Salow says.
"Activity streams are the next 20-year cycle, and wearables are a huge part of this," he riffs. "Whether it's capturing a bar code, or capturing video of what a technician is seeing, I'm able to transmit data from the employee to the cloud to various devices in the workplace. Right now, people trade email and video to troubleshoot problems. But if a technician could share an activity stream from these glasses instead, imagine how much faster problems would be resolved."
I see, you see, we see
The XOEeye concept is simple by design, and it needs to be if roughnecks on an oil rig or hardhats on a factory floor are going to bother with newfangled tech. An employee dons the XOne glasses, and everything he or she sees is streamed from an onboard 5-megapixel video camera to Vision, XOEye's cloud platform. Tapping into Vision, remote colleagues can see everything the employee sees--and from the employee's point of view.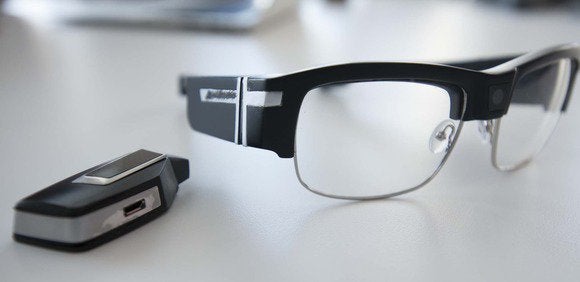 IMAGE: MICHAEL HOMNICK. The XOne prototype has two user-changeable earpieces. One earpiece contains the glasses' battery, while the other one houses sensors and core-logic. A 5-megapixel video camera sits smack-dab in the middle of the frames.
The smartglasses also include two microphones and a set of earbuds, so employees at a job site can easily speak with coworkers, whether they're located in a different part of the same building or 2000 miles away. And because the XOne glasses include an accelerometer and gyroscope, XOEye's Vision platform can log body movements, inviting new possibilities for managing worker safety and ergonomics.