XOEye smartglasses could be the all-work, no-play wearable that people actually use
The future of smartglasses will be realised by a factory worker operating a 3000-pound stamp press, not a gamer stomping on virtual-reality bad guys.
Let's walk through a few scenarios. The most obvious XOEye application involves telepresence-based troubleshooting: A manager in a remote location guides a field technician through a complex diagnostics process, using the XOne glasses as his eyes and ears. Salow scripts a typical exchange: "Grab this wire. No, not that one, that one. Great, now tighten that down. Let's hear it again. No, it still doesn't sound right. Turn it off. Let's try something else."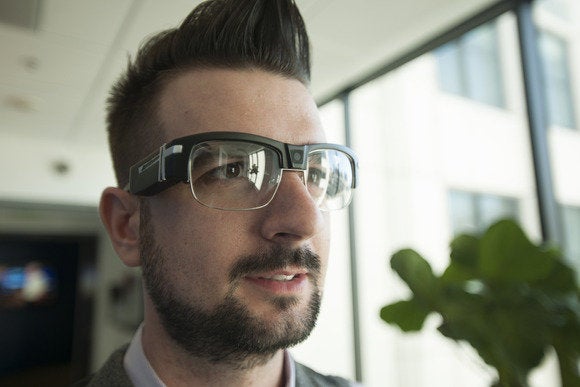 IMAGE: MICHAEL HOMNICK. Aaron Salow, pictured here wearing the XOne smartglasses destined for the pilot program, says his company's hardware is informed by years of experience in heavy-duty work environments.
Sure, that field worker may not always appreciate being guided like a marionette by a puppet master half a continent away, but telepresence can save companies expensive plane trips for on-site visits, as well as critical time.
Hands-free scanning--finally
Because camera sensors can also read bar codes, the XOnes could be used by airlines that need to route thousands of pieces of luggage every hour. Currently, this is a grueling process that requires an employee to pull a heavy suitcase off a conveyor belt with one hand, while reading the luggage tag with a handheld scanner in the other hand.
But if an airline mothballs its $1000 handheld scanners for the $500 face-mounted XOnes, it can save money and reduce workplace injuries. "Every time one of our airline customers has a shoulder injury, it costs them thirty thousand bucks," Salow says. "Something like this, which is a fraction of the cost, lets them pick up that bag with two hands. It totally changes the amount of safety and injury issues."
Of course, the truck drivers who work for FedEx and UPS use handheld scanners too. Salow imagines a day when our packages will be scanned by the XOne--and a deliveryman will snap a photo of the package before he leaves it on your doorstep. "We've got companies that are spending millions of dollars on liability every month because someone says a package was destroyed," Salow says. "Well, was it? Now they've got a picture of the container when they left it at your house."
Safety first
Safety and ergonomic applications fill out XOEye's bag of tricks. The smartglasses' motion sensors can pick up whenever a factory worker bends down in a 90-degree angle. The back-end Vision platform can record this as a "biometric event" and save it to a database for further review by management. "If Joe is bending over 60 times a day, he may have a back problem in his future," Salow says. "So a company may want to change the way it utilizes this person, or maybe transfer him to a different department."
Previous Page 1 2 3 4 Next Page