XOEye smartglasses could be the all-work, no-play wearable that people actually use
The future of smartglasses will be realised by a factory worker operating a 3000-pound stamp press, not a gamer stomping on virtual-reality bad guys.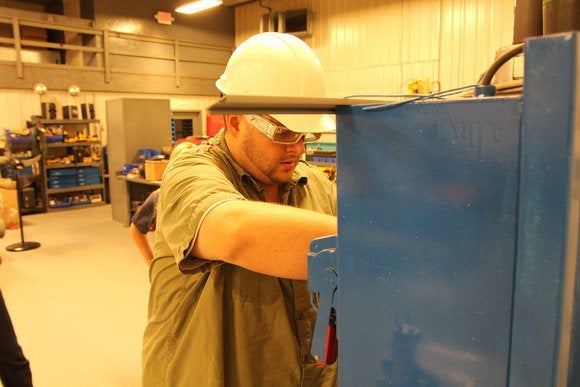 IMAGE: XOEYE. The XOne's movement sensors could track how many times a factory worker bends down during a shift-or send an alert when an employee is entering a danger zone.
Similarly, Salow says, the XOne's accelerometer could trigger an alert every time a factory worker exceeds an acceptable forklift speed. Or perhaps a dangerous machine shuts down anytime someone wearing the smartglasses gets too close to a saw blade or stomp point. Salow says XOEye will provide customers with APIs so they can build and implement custom applications that interface with their own unique workflows.
Likewise, the Vision platform is designed to integrate with legacy enterprise management systems (critical, say, for all that bar-code scanning), and can be used to push specific applications to the smartglasses via over-the-air updates.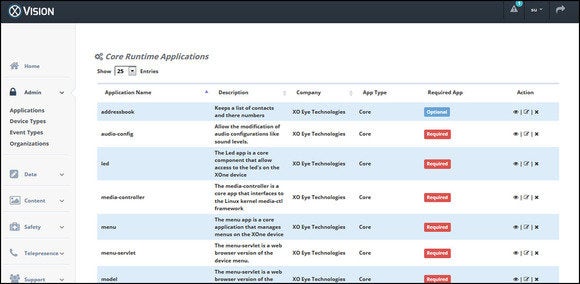 Using the back-end Vision cloud platform, an IT manager can control exactly which applications load onto exactly which XOnes in the field.
Google Glass? For this market?
So it all sounds very enterprisey. But what would Salow make of the "Glass at Work" announcement that Google issued on Tuesday? Salow thinks Glass is ill-suited for the industries XOEye is targeting. Specifically, Glass' reliance on voice control and capacitive touch makes it a non-starter for noisy work environments where so many employees wear gloves.
The XOne, meanwhile, is designed for blue-collar workers, and is born from the collective wisdom of an XOEye team based in Nashville and steeped in the life lessons of working in heavy industry. "I was running a machine on the floor of a company when I was 14, so my whole background has been in manufacturing, and operations, and construction," Salow says. "We get those people who drive an F-150 and listen to Kenny Chesney. That's us."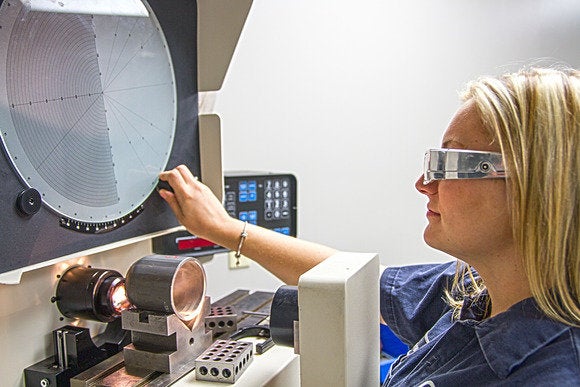 IMAGE: XOEYE. Another look at an early XOne prototype-this time in a telepresence scenario using high-precision machinery.
Like Glass, the XOne's interface features voice control, but the glasses aren't dependent upon it. The XOne doesn't employ capacitive touch, and instead has two hardware control buttons for times when the din of machinery drowns out voice commands, and when heavy safety gloves make traditional touch control impossible.
You'll also notice that the XOne lacks any type of display to provide visual feedback for the system's applications. That's a design feature, an acknowledgement that excessive visual feedback isn't necessarily safe, Salow says. Instead the XOne has a strip of LEDs that run along the interior of the frames and send simple messages back to the worker--for example, a green LED could indicate a package has been properly scanned.
Previous Page 1 2 3 4 Next Page