XOEye smartglasses could be the all-work, no-play wearable that people actually use
The future of smartglasses will be realised by a factory worker operating a 3000-pound stamp press, not a gamer stomping on virtual-reality bad guys.
And of course, the clear lenses on the XOne are impact-resistant to ANSI Z87.1 standards. The glasses' earbuds are safety-certified, too.
The only viable smartglass future?
The XOne smartglasses are destined for final release this summer. Not only will it cost a very expensive $500 per unit, but the glasses will require a $99 monthly subscription to the Vision enterprise suite. That recurring cost includes full access to the device-management platform, regular firmware updates, and unlimited minutes for the XOne's telepresence function. (Notably, each pair has its own phone number for voice calls, but it depends on Wi-Fi or Bluetooth smartphone tethering, as the glasses have no SIM.)
Salow says subscription fees will likely drop if a business buys XOnes at scale. But will the costs be low enough to spark an "activity stream" revolution? Well, if any use cases have the potential to spur wearables adoption, it's the kind that put workplace productivity front-and-center, analysts say.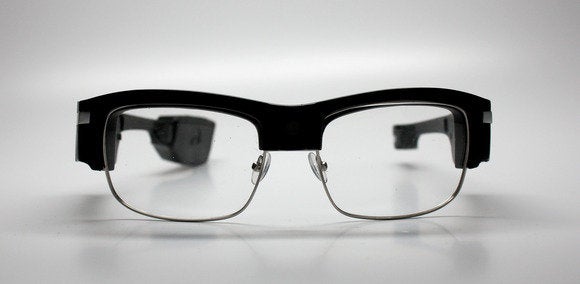 IMAGE: XOEYE. Ironically, even though the XOnes aren't designed for aesthetics, they do project a certain nerdy-cool Buddy Holly vibe.
"The average Joe consumer will probably look at Google Glass and say, What is this going to help me solve?'" says Ramon Llamas, a wearables industry analyst at IDC. "Whereas within an enterprise opportunity, particularly the ones in industry, these are very specific situations and problems. And we all know that anything that's going to make you more efficient is going to make you more profitable down the line."
And, hey, it's not like XOEye's customers will have to worry about how they look in the XOnes. When you're operating a 3000-pound stamp press, your main concern is precision, safety, and getting the hell home. Aesthetic concerns can wait until after you clock out.
Previous Page 1 2 3 4