Yoga Tablet 2 Pro review: Solid productivity features can't make up for its crummy interface
A fantastic, productivity-focused tablet that's marred by Lenovo's subpar Android interface.
The Lenovo Yoga Tablet 2 Pro is out of the ordinary. It's not much bigger than most Android tablets at 13 inches, but it has a pico projector embedded in its hinge. That's in addition to its neat kickstand that you can orient any way you like.
At $500, The Yoga Tablet 2 Pro is much more affordable than buying both a tablet and a projector individually, but that's little consolation if you have to deal with Lenovo's horrid adjustments to the Android interface. This enormous, productivity-centric tablet has so many things going for it, but its shoddy Android customizations ultimately hold it back.
It is a tablet or a laptop?
Ignore its gargantuan size and the Lenovo Yoga Tablet 2 Pro is quite the stylin' tablet. It features a sleek aluminum finish around the edges and on its backside, giving it a nice business-like aesthetic. Its rear-facing kickstand is also made of aluminum, and thankfully, it isn't as difficult to orient as previous Yoga Tablet models. It also pops out more easily with just the push of a button, so you don't have to worry about chipping a nail when prying it loose.

ROB SCHULTZ. The Lenovo Yoga Tablet 2 Pro is one sleek piece of hardware.
I never thought of using an Android tablet as a work machine, but it's quite possible with this device. Its 13.3-inch Quad HD IPS display is not only ideal for catching up on your Hulu queue, but it's great for multitasking, too. I paired the tablet with a Logitech Bluetooth keyboard and got a ton of work done using productivity apps like Google Docs and Microsoft OneNote. It felt almost exactly like using a regular laptop for work, except that I was touching the screen to move around the interface instead of a wielding a mouse.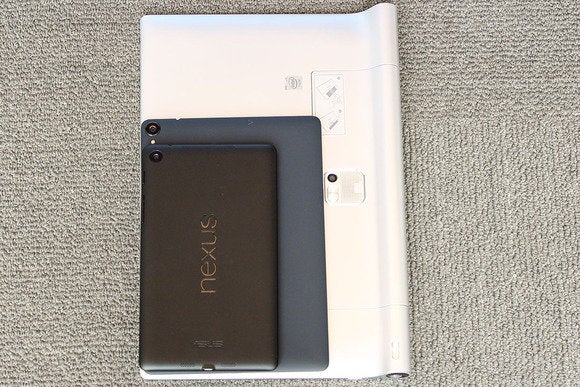 FLORENCE ION. A second-gen Nexus 7 stacked on top of a Nexus 9 stacked on top of a Lenovo Yoga Tablet 2 Pro.
Of course, its size will eventually become an issue. Not only is it wider than my 13-inch MacBook Air, but it didn't fit in the messenger bags and large purses that typically fit my laptop. To add insult to injury, I had to take it out to get through the security line at the airport, and I was asked to put it away as the plane was getting ready to land. I didn't bother to explain that it was actually an Android tablet, however, because I didn't think anyone would believe me--and anyway, it's already bigger than my usual work machine.