Yosemite deep-dive review: OS X 10.10 gets ready for the big time
For the first time since 2000, Apple has offered a public beta of its new OS. Here's what's new and what's cool.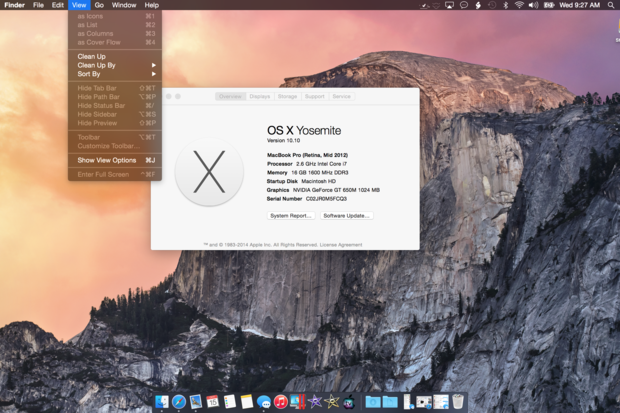 Credit: Michael deAgonia
OS X 10.10, otherwise known as Yosemite, is the 11th iteration of the operating system that powers the desktops and laptops created by Apple. This update, expected to be released later today, marks the second version of OS X whose code name is based on a California location instead of a species of cat -- and the second time Apple has let loose a major update for free.
Yosemite also offers some interesting firsts: It will be the first version of the Mac operating system to have a public beta (downloadable here) since The Public Beta of OS X released in September 2000. Yosemite also marks the first release of OS X to inherit the interface theme that debuted in iOS 7 and is the first to feature Continuity, a set of services utilizing the built-in wireless networking protocols to enable useful interactions between Apple devices.
Installation
The requirements for Yosemite aren't very steep. It can run on MacBook Airs and Mac Pros from 2008 and later, while MacBook Pros and iMacs are supported as far back as mid-2007. However, MacBooks, Xserve systems and Mac Minis must date from 2009 (and MacBooks must be the models with the aluminum casing).
Some advice before you start: 8GB of memory works well, but 16GB is what I recommend. Also, if you haven't gotten around to it, upgrade your hard drive to an SSD. If you have to pick between more memory and an SSD, go with the SSD. And, before you install, do a full backup first of your existing system.
Finally, since thousands of files are about to be swapped around, make sure your data is in top shape. So, run Disk Utility -- or, better yet, Alsoft's DiskWarrior ($100) -- before installing this update. If you're running OS X Lion or later, you can restart your Mac and hold down the keyboard shortcut command-R; this will bring you into Recovery mode. If something goes wrong, you'll also be able to reinstall the operating system from this mode.
The installer downloads to your Applications folder; pluck it from here and copy it to an external drive if you want to install it on other household Macs without going through the download again. Make sure to do this before you install the update; it will delete itself after the install to save space on your drive.
To manually install, double-click the Yosemite installer icon, enter your username and password, select your target destination -- for most users this is the Macintosh HD -- and the installer does the rest.