You Should Play: Rob your friends and protect your stash in King of Thieves
This challenging platformer-puzzler hybrid tasks you with stealing gold from built-in dungeons and dungeons designed by other players. The catch? Other players will steal from you, too.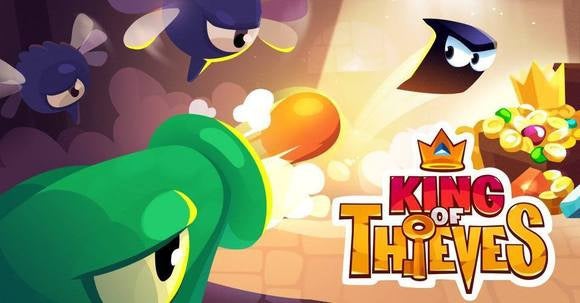 These days, keeping up with games can be a full-time job. So how do you separate the signal from the noise, the wheat from the chaff, the Temple Runs from the Temple Jumps? Allow us to help by regularly selecting a game You Should Play.
Robin Hood was all about robbing the rich to give to the poor--a noble cause, obviously. But in King of Thieves, your goal is much more barbarous: Rob from your friends to give to yourself. King of Thieves is all about rising to the very top, which makes Robin Hood look like some middling prince (with apologies to Robin Hood, of course).
This cutesy but challenging platformer-puzzler hybrid from ZeptoLab (makers of the Cut the Rope franchise) tasks you with stealing gold and gems from more than 80 single-player dungeons and your fellow players. Want a platformer that's going to keep you coming back again and again? Here are three reasons why this gem may be for you.
There's no honor among thieves... and friends: Perhaps the most compelling part of King of Thieves is its social aspect. Not only can you steal from the game's built-in single-player dungeons, you can also rob your fellow players, who have designed traps of their own.
The two main currencies of the game are gems and gold, and you'll want to grab both. Gems help you initiate rituals at your vaguely Aztec-like home base, and these rituals are required to upgrade the traps you'll use to fend off other thieves. As you perform more these rituals, you can move into better, more elaborate dungeons that are harder to steal from. Gold buys you upgrades and other swag--like shields--to help keep your own stash safe. You can see your progress in relation to other thieves and even join guilds to team up and get better loot.
Though it bothers some users, I enjoy knowing that my loot is never safe: It adds to the challenge. Setting up traps to protect your loot is exceptionally fun, but in order to use that trap against intruders, you have to navigate your own trap successfully twice in a row--ensuring that your puzzle is hard, but not impossible. No matter how good you are at dungeon strategy--and no matter how many upgrades you buy--thieving is just part of the game. That's what makes it utter chaos on the leaderboards: Everyone is always grabbing each other's loot.
Player-built dungeons and traps keep the game from getting stale: Getting loot starts out being a rather simple matter--just guide your twee little thief (who reminds me of the Ninji from Super Mario Bros 2) to a treasure chest. But your thief can only move in one direction, and turning around requires him to jump off of walls. That makes navigating a series of platforms a real challenge.