5 apps to help you digitally organize business cards
Do something with those stacks and stacks of business cards on your desk.
We live in a practically paperless, digital age, but there's one paper product that just won't die: The business card. Business cards are pretty much a necessity for networking, but what do you do with 800 business cards when you get home from a tradeshow?
Let me guess—leave them in your bag and forget about them until the next tradeshow rolls around. Not such an effective networking tool after all.
Good news: There are plenty of apps that will help you stay on top of your business card stash by (quickly) digitizing them and adding the relevant information to your virtual rolodex (your Contacts list). We tried out five to find out which one makes the best business card butler.
CamCard
CamCard (free version and $3 premium version) is a classic. It's quick, accurate, and cheap, with two versions to suit different needs—its entry-level free version offers full functionality but limits your card-scanning to 200, where its premium version offers unlimited scanning. CamCard's optical character reader (OCR) can read and digest card information in 17 different languages, including English, traditional and simplified Chinese, Japanese, Hungarian, Swedish, and Russian.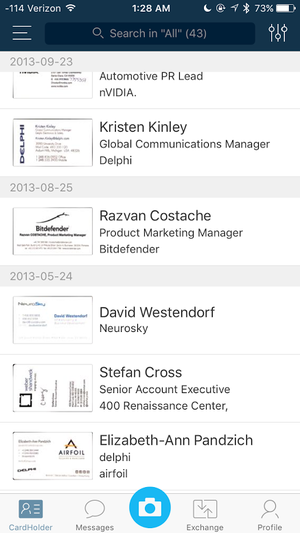 CamCard is one of the fastest apps we tried—it snaps card photos automatically and flattens the photo into a readable image. It also offers a batch mode, where you can take successive snaps of multiple cards. This app is fairly accurate at translating card data to contact information, and it can read multiple layouts (though it frequently mixes up company, department, and job title). It can automatically translate phone numbers with extensions into a phone-readable format (with commas), and it can decipher social media handles. The app has a robust web interface, where you can manage contacts (categorize or delete them, or merge duplicate cards) efficiently.
On the downside,this app has trouble recognizing all-black cards and extremely glossy cards; for these cards you will need to manually snap a photo and there's no guarantee the OCR will read them correctly.
Overall, CamCard is a solid app with minor, understandable flaws. The app features a cloud-based database that can be synced across devices, and you can also upload all contact information into your local Contacts list. CamCard also lets you upload your own card and add augmented reality features, such as a headshot or a video introduction, which other CamCard users will be able to see, should they ever scan your card. The app does let you share your card digitally with users via QR code or through its Card Radar, a feature that alerts you to nearby CamCard users.
FoxCard
FoxCard (free with in-app purchases) is a straightforward, easy-to-use business card scanning app that can recognize cards in nine different languages (English, French, German, Italian, Spanish, Portuguese, Swedish, Finnish, and Danish).