5 apps to help you digitally organize business cards
Do something with those stacks and stacks of business cards on your desk.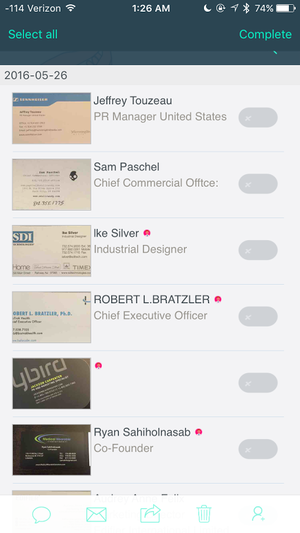 FoxCard is just a business card scanner, not a social networking tool, so there's no way to add digital features to your current business card or share your business card digitally with other FoxCard users. The scanner function is automatic—the app will automatically snap a photo of a card once it's positioned correctly—and features a batch mode for snapping multiple cards. We found that FoxCard's scanner is better at recognizing all-black and glossy cards, though its overall scanning speed is slightly slower than CamCard's. This app also offers better in-app management tools: You can mass- categorize, email, text, share, or delete contacts from within the app itself.
While the app's OCR is good, it's not excellent. It frequently messes up addresses (it almost never separates the street from the city) and it occasionally places periods where there should be none. The app's batch mode also had a few quirks—information from some cards bled into other cards (for example, I found an address on a card where no address was listed—it was from a different card) in multiple tests.
FoxCard isn't perfect, but it is completely free. The app does feature a cloud-based database that lets you sync your contacts across multiple devices, and it also lets you save contact information directly to your device's local Contacts list.
WorldCard Mobile
WorldCard Mobile (free lite version and $7 premium version) is aptly-named—this business card scanner recognizes the most languages (21) of any of the apps we tested, including simplified and traditional Chinese, Czech, Slovak, and Arabic, though you will need to manually select the language of each card before you scan it. The app comes in two versions: A free version that allows you to save one contact per week, and a premium version that allows you to save unlimited contacts.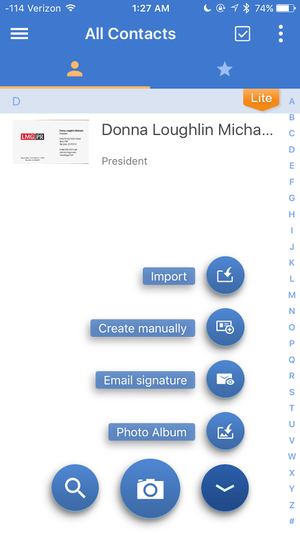 Like CamCard and FoxCard, WorldCard Mobile has its own cloud-based database that can sync across multiple platforms. It can also save contacts directly to your local Contacts list and sync with Gmail/Google contacts—a handy feature for Gmail users.
Unfortunately, WorldCard Mobile does not have a batch mode for snapping pictures of multiple cards at once, nor does the camera automatically take a photo when a card is properly positioned. These might seem like insignificant features, but they make a big difference when you have hundreds of business cards to digitize. At $7, the premium version of this app (and, realistically, the only usable version) is more expensive than the other apps we tested.
WorldCard Mobile is perfect for international businesspeople who like to keep their Gmail contacts up-to-date, but for everyone else it's slower and pricier than the competition.
Previous Page 1 2 3 4 Next Page