5 apps to help you digitally organize business cards
Do something with those stacks and stacks of business cards on your desk.
SamCard
SamCard (free lite version and $4 premium version) is a simple, straightforward business card reader that scans cards and saves them to your iPhone's local Contacts list. The app comes in two versions: SamCard Lite, which allows you to save up to three new cards to your Contacts list each week, and the premium version, which allows you to save unlimited cards to your Contacts list.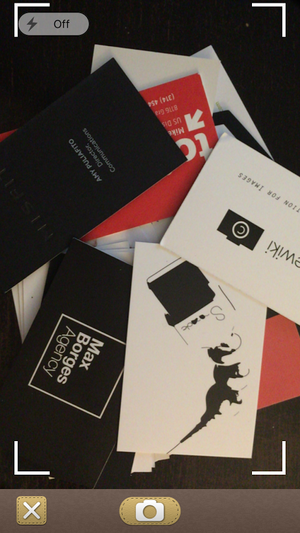 The app is simple and easy to use. Unlike the other apps in this round-up, SamCard doesn't bother with a cloud-syncing database—you don't have to create an account, nor do you need to worry about which contacts list(s) to save your data to. Instead, SamCard saves all of your scanned cards directly to your iPhone's local Contacts list, and that's it. The app also offers relatively good OCR technology that can recognize a business card's orientation, though it did have some trouble with non-traditional layouts. The camera does not offer a batch mode or automatic picture-taking, but it does work very quickly.
However, because SamCard doesn't offer a cloud-based database, you won't be able to sync your contacts across platforms (unless you sync your iPhone contacts across platforms). The app is also perhaps a little too simple—it doesn't offer a batch mode, nor does it allow you to quickly manage multiple contacts at once (you're at the mercy of Apple's contact management system). One plus: It checks for repetition of contact names in your contacts list.
SamCard isn't the most robust business card reader, but its simplicity is appealing. If you're just looking to quickly add people to your Contacts list, SamCard's camera is the snappiest (even without batch mode or automatic snapping).
ScanBizCards
ScanBizCards (free lite version, $1 premium version, and enterprise version) is a business card scanning app from CircleBack that offers unlimited scanning in its free app (but limited contact list syncs), as well as some other features such as manual card transcriptions and calendar integrations. The app comes in three versions: A Lite version, which is free and lets you scan unlimited business cards; a premium version for $1, which offers unlimited business card scanning, unlimited address book syncs, and unlimited calendar integrations; and an enterprise version, which is priced based on your company's need and offers features like batch scanning, custom contact fields, and unlimited free manual card transcriptions.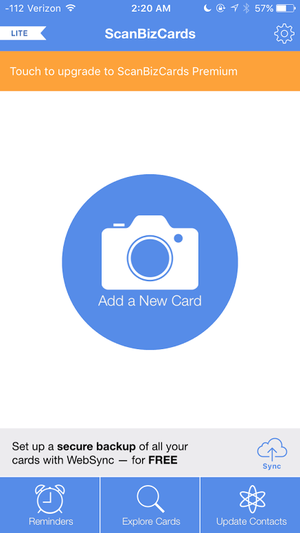 Of the apps we tested, ScanBizCards has the best OCR technology. This app was consistently accurate in its card-reading capabilities; it did occasionally get tripped up on non-traditional layouts and glossy/black cards. Although the free and premium versions of the app do not offer batch mode for processing multiple cards, the OCR is accurate enough that we were still able to breeze through many cards fairly quickly. The free version of ScanBizCards also offers unlimited card scanning, so if you're looking for a quality business card scanner (and you're not particularly interested in a synced-up cloud-based database or manual card transcriptions) then the free version of ScanBizCards is an excellent tool.
Previous Page 1 2 3 4 Next Page