80 Days' twisting, globetrotting adventure will be even wilder on Mac
We chat with Inkle about bringing the iOS narrative game to desktops this month.
"Our biggest fear going into desktop platforms was, 'Do people want to read on monitors?' But of course, people read on their computers all the time—on websites, documents, and in games as well," Ingold says. "And that helped us realize that the important thing was to get the layout of the text right: To make sure it sits on the screen as comfortably as text in a magazine."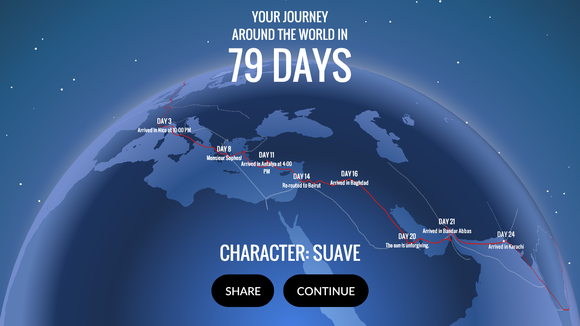 If you're lucky, you'll complete your journey in 80 days or less. Whatever the case, it's fun to go back through and try a totally different route.
"Just as on the iPad and iPhone, it all comes back to a beautiful layout that gives the text room to breathe without losing its richness," he continues. "We approach laying out our screens almost like panels in a graphic novel—we don't want any of the walls of text you find in lore screens of RPGs, but we also don't want slow subtitles you see in games that players just want to skip through."
And the beautiful, minimal artwork from mobile will look even better on your bigger screen, thanks to upgraded lighting and shader effects that add a little more color and pop to the graphics. Furthermore, the move to Mac means adding optional complexities to the game, such as added information available in mouseover and hover states. On Mac, Inkle says the game has a little more room to breathe. "Tablet games have to be ruthlessly focused," he says. "If you put more than one or two things on screen at once, players start to get lost."
And 80 Days is only the start of Inkle's Mac ambitions. The studio's other well-received mobile series—Steve Jackson's Sorcery!, inspired by the 1980s fantasy gamebooks—will make the move over to Mac and PC later this year, with the three existing iOS games released episodically. Expect the entries to debut about a month apart once they complete the transition.
The computer versions aren't as far along as 80 Days, so the team isn't ready to share extensive details. However, Ingold says they're streamlining the experience and working to optimize the graphics, plus 80 Days composer Laurence Chapman is writing new music for Part 2. And when the fourth and final entry of Steve Jackson's Sorcery! is eventually released, Inkle intends to launch it for all platforms—Mac, PC, iOS, and Android—on the same day.
It's a tall task for a studio of three employees and various contractors, but embracing the Mac with 80 Days and soon Sorcery! opens Inkle up to bigger things in the future. "We founded Inkle to explore what new narrative experiences were possible on tablets and phones, and it's really satisfying to be bringing the results of those experiments back to more powerful desktop machines," asserts Ingold. "We've got some pretty ambitious ideas."
Previous Page 1 2 3