In the area of science, tech and high-skilled immigration, the latest GOP debate was hurt by awful questions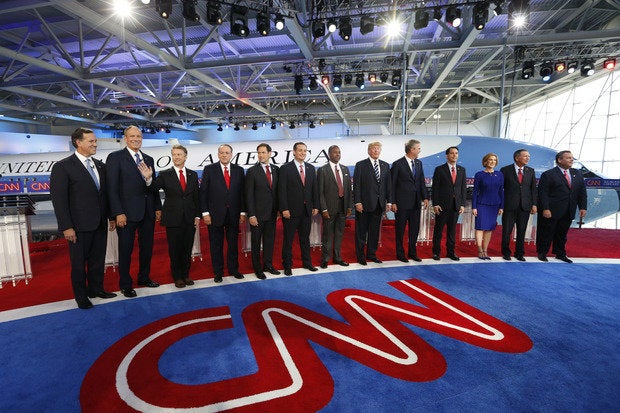 The GOP presidential candidates line up before the second presidential debate at the Ronald Reagan presidential library in California. Credit:REUTERS/Mario Anzuoni
Most of the references to technology in the so-called main-stage GOP debate Wednesday night were around protecting U.S. borders. There were calls for drones, visa entry and exit tracking systems, and overall more reliance on electronics to deter illegal crossings. It was all about building a better fence, and not about government's role in advancing technology.
There was no discussion about the H-1B visa except at the margins. There was no mention of the federal government's role in science investment. Space exploration? Not discussed. Technology hardly came up in the three-hour debate, the same as what happened in the first debate on August 6.
Climate change, bypassed in the first debate, did come up in Wednesday night's debate. It's a subject that offers much opportunity to talk about science, government investments in basic science including supercomputers, alternative energy systems and energy storage.
But CNN's reporter Jake Tapper's climate change question was miserably muddled and framed around former President Ronald Reagan's response to the discovery that chlorofluorocarbons (CFCs) in aerosols were depleting ozone. CFC use was subsequently banned.
Tapper said Reagan's action was taken as an "insurance policy" in case the scientists were right. Why not "approach climate change the Reagan way?" asked Tapper.
Tapper directed the question at U.S. Sen. Marco Rubio, who used it to accuse President Barack Obama's administration of pitching climate change proposals that will "destroy our economy."
Less strident was New Jersey Gov. Chis Christie who said his state is moving to energy alternatives, and said that 53% of the state's power is nuclear generated. "Massive" government intervention is not needed, Christie said, and "nuclear needs to be back on the table in a significant way."
The most relevant questions asked by CNN were about illegal immigration, not specifically about the movement of highly skilled people into America. The CNN reporters wasted their opportunity to push on this topic.
One case in point was a tabloid-baiting question by Dana Bash, CNN's chief political reporter, to Florida Gov. Jeb Bush about Donald Trump's assessment whether his views "on immigration are influenced by your Mexican-born wife." The question clearly accomplished its goal of getting Bush and Trump to mix it up, with Bush demanding an apology from Trump.
Dr. Ben Carson came closest to addressing the immigration topic. Carson is advocating a guest worker program for illegal immigrants, and says they are needed, particularly in agriculture.
"People who had a pristine record ...we should consider allowing them to become guest workers primarily in the agriculture sphere. Because that's the place where Americans don't seem to want to work," said Carson. He didn't continue with his views of what should be done in areas where people do want to work, namely tech.