In the area of science, tech and high-skilled immigration, the latest GOP debate was hurt by awful questions
Carson, apart from this debate, has talked favorably about Canada's skilled immigration program and its point system. Visa applicants are scored on education, experience and ability to speak either English or French. It also runs a permanent residency "express entry" program for hiring by employers who cannot find a Canadian permanent resident for a job.
Trump, the real estate billionaire, has outlined a detailed immigration policy that incorporates many of the views sought by H-1B critics. Had he been asked a question about it, it might have set the stage for a vigorous discussion with H-1B expansion supporters Rubio and Bush, in particular.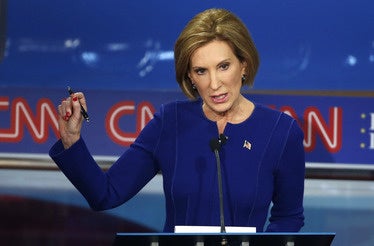 REUTERS/Lucy Nicholson Former HP CEO Carly Fiorina, who is seeking the Republican nomination for president, speaks at the GOP's second presidential debate about she "doubled the size" of HP.
But Trump did challenge Carly Fiorina, the former HP CEO, who provided a Cinderella version of HP's employment growth.
Fiorina talked about how she "doubled the size of the company," and increased its growth, from 80,000 to 160,000 jobs, and points out that today Hewlett-Packard employs around 300,000.
What Fiorina didn't mention is that much of the employment growthcame from the Compaq acquisition and, in particular, the EDS acquisition. EDS had 137,000 employees at the time HP acquired it in 2008.
Trump was having none of Fiorina's history of HP, and said she "can't run any of my companies."